Sun Pharmaceutical Industries has reported a 244% jump in its net profit at Rs 564.32 crore for the first quarter ended June 30, 2010, against Rs 163.84 in the corresponding period of the previous year.
Sun's US subsidiary Caraco's sales stood at $130 million in the quarter under review, up 171%, from Q1FY10. However, this was aided by one-time sale of generic oxaliplatin distributed by Caraco. Sale of this product was stopped on June 30, 2010. Total income rose 78% to Rs 1,399.7 crore from Rs 787.59 crore. Sun Pharma CMD Dilip Shanghvi said, Business has performed reasonably well, with growth coming from all business segments and in line with our expectations and guidance. The high margin achieved this quarter is a result of one-time sale achieved in the US and hence will not repeat, however, the core strategy of building a sustainable business remains unchanged. This will enable us in enhancing our presence across markets with rapidly emerging and profitable generic opportunities.
Sale of branded prescription formulations in India stood at Rs 598 crore for the first quarter, up 91% over the same quarter last year. On a like-to-like basis, this is equivalent to a growth of about 17%. Sun Pharma holds 3.7% market share, as per latest IMS ORG report. Sun Pharma shares rose by 2% to close at Rs 1,805.35 on the BSE on Wednesday.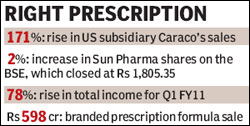 In the US generics segment, during the first quarter, ANDAs for 4 products have been filed, 2 by Sun Pharma and 2 by Caraco. Counting these, cumulatively ANDAs for 211 products have been filed by Sun Pharma and Caraco with the FDA. ANDAs for 7 products received approvals in the first quarter. With these, ANDAs for 120 products now await USFDA approval, including 11 tentative approvals.