Fertiliser use mix in the country deteriorated sharply in 2011-12, threatening to hit food production, thanks to disparity between prices of urea and non-urea fertilisers (that are partly decontrolled).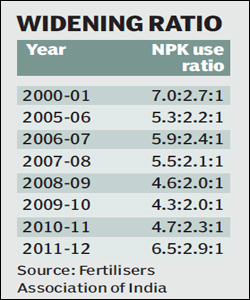 The government decontrolled prices of non-urea fertilisers in 2010 by introducing nutrient-based subsidy (NBS). However, while prices of non-urea-based fertilisers have shot up in the last year, controlled urea price has remained constant.
As a result, the gauge of balanced fertilisation has skewed towards excessive use of nitrogen (N) and disproportionately lower use of phosphate (P) and potash (K). Productivity in India is 50% of that of China, thanks largely to imbalanced fertilisation mix, Fertilisers Association of India chairman A Vellayan said.
Total nutrient consumption per hectare of gross cropped area declined from 146.3 kg in 2010-11 to 143.8 kg in 2011-12. Urea, which adds N to the soil, currently accounts for about 50% of the total fertilisers consumption in the country.
Urea is currently priced at R5,340 a tonne, while non-urea complexes like DAP and NPK cost R24,000 and R22,000 a tonne each and leading to excessive use of urea and even its smuggling to South Asian countries.
There is an urgent need to bring urea under the NBS regime in order to ensure balanced fertilisation, said HS Bawa, executive vice-chairman of Zuari Industries. Under NBS regime, non-urea fertiliser prices are market-driven while the subsidy component on them is fixed.