In what should bring cheer to brides-to-be, after steaming ahead for much of the year, gold prices finally seem to be pausing for a breather. In rupee terms, the yellow metal has fallen to a near three-month low of Rs 17,745 per 10 gm. The drop would have been considerably sharper, had it not been stemmed to some extent by the depreciating rupee in the last three months. It, however, maintains a safe distance from the years low of Rs 16,055 it had touched on February 5.
Falling prices do not necessarily imply the end of the bull run for the bullion. Instead, this may just be a temporary blip owing to the subdued demand for jewellery, which typically constitutes about 60% of the overall gold demand. According to a report by the World Gold Council, consumer sentiment across the globe has turned sluggish due to an off-peak season and higher price volatility. Globally, spot prices for gold have slipped from $1179.2 per ounce to $1171 levels in the past three months. Commodity analysts believe that monsoon is generally a slack period for buying gold in India. Already, gold has moved from the Rs 19,000 levels to Rs 17,000 levels and might test the bottom, said Amol Tilak, senior research analyst, Kotak Commodity Services.
The rise in scrap sales is also impinging on the demand for new gold jewellery. While jewellers purchased gold (bars to make jewellery) at higher prices last year, they seem to be wary of taking such decisions this year. The caution comes from a rise in scrap sales through exchange of old gold for new by consumers, said Rajini Panicker, head of commodities - research, MF Global.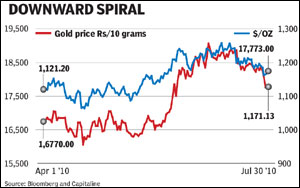 However, the falling demand for jewellery has been somewhat countered by the rush to invest in gold ETFs. According to World Gold Councils July report, the second quarter of 2010 saw a flurry of fresh gold purchases through ETFs. With 273 tonne of gold-ETF buying, it was the second-largest quarterly inflow on record. Globally, gold in ETF form reached a record 2014 tonne, worth $81 billion. The numbers clearly indicate that holdings in gold ETF will rise due to economic worries in the near future, said Kuljeet Kataria, VP-commodities, Motilal Oswal Commodities.
Most analysts are unequivocal about the long-term prospects for gold. In India, one of the largest consumers of gold, the mad scramble for gold generally begins in October, when the marriage season kicks in. We expect prices to be supportive post Diwali and the demand to pick up during the marriage season in October-December, said Amar Singh, head-commodity and currencies, business development and research, Aditya Birla Money. And, if the brides-to-be loosen their purse strings, gold might well breach the Rs 19,000 mark in 2010, feel analysts.