Big tyre companies are worried over rising raw material cost as despite rubber yields rising in July, price of natural rubber has shown little sign of relenting. In an unprecedented jump, price of RSS-4 crossed Rs 190 a kilogram this week.
The rubber boards July data shows 15% increase in natural rubber production compared to the previous year. However, Automotive Tyre Manufacturers Association (ATMA) has argued that the production-consumption gap has grown faster than claimed by the board.
By a basic back-of-the-envelope calculation, the consuming industry has estimated that availability gap has not just doubled or trebled but grown over five times within a year. What makes it more difficult is the hefty import duty on rubber.
Its a devil-and-the-deep-sea predicament for tyre industry since neither imports or domestic sourcing is viable, ATMA director-general Rajiv Budhraja told FE.
The industry outfit has alleged hoarding of natural rubber stocks by growers and dealers. At the same time, the rubber boards latest statistics show that the countrys natural rubber production increased almost 15%.
In July 2010, the country produced 57,500 tonne of rubber. In the same period an year ago only 50,250 tonne was produced. But consumption in July was estimated at 77,500 tonne, almost 35% more than the production that the data showed.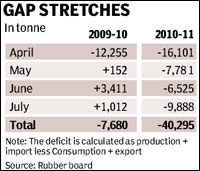 It is this yawning production-consumption gap that makes ATMA see red. According to an analysis by ATMA, natural rubber availability (domestic production plus import) lagged behind total demand (domestic consumption plus export) by 40,295 tonne in April-July 2010.
However, during the corresponding period of April-July 2009, the comparative deficit was just 7,680 tonne.
The tyre industry has also contested the projected buffer stock of 2.5 lakh tonne pointing out that natural rubber dispatches are all of fresh rubber.