If central and state taxes and generous subsidies coexist in Indias fuel sector, the food sector is no different. Various state-level imposts on grain procurement inflate the Centres food subsidy bill a major component of its revenue expenditure by almost 14%, finds an FE analysis. Besides, private traders in high-tax states like Punjab and Haryana stop buying grain, to the detriment of farmers. Worse, tax proceeds are seldom used in the food and farm sectors and get diverted to other programmes.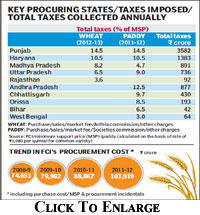 According to official sources, states collectively raised around R10,000 crore in taxes and charges on rice and wheat procured by the Food Corporation of India and other government agencies. The governments food subsidy bill rose 14% to R72,800 crore in the fiscal year through March, contributing significantly to the fiscal deficit, which grew by 1 percentage point to 5.8% of the countrys gross domestic product. The government had budgeted R75,000 crore as food subsidies for 2012-13, but last months 16% hike in the paddy procurement price alone will increase the bill by around R10,000 crore.
Government agencies procured a record 38 million tonnes of wheat and 34 million tonnes of rice this year, driving up official reserves to a staggering 80 million tonnes when the country has a covered storage capacity of only around 45 million tonnes.
The levies are the highest in Punjab, the grain-bowl of India and the largest contributor to central grain reserves. Taxes and other charges add up to 14.5% of procurement prices in Punjab, significantly raising costs. Haryana charges 11.5% on rice and 10.5% on wheat while Andhra Pradesh charges 12.5% on rice. Uttar Pradesh levies 6.5% on wheat and 9% on rice.
According to the Commission for Agricultural Costs and Prices (CACP), chances of other states imposing higher taxes cant be ruled out, making the procurement system even more expensive and unsustainable.
High taxes are driving private traders out of the markets. Their purchases accounted for just 1.2% and 0.06% of the total foodgrain trade in Punjab and Haryana, respectively, CACP chairman Ashok Gulati told FE.
National interest requires healthy competition and, therefore, state monopoly is as bad as private monopoly as both are detrimental to the long-term interest of the nation. So, the Competition Commission Of India should look into the issue, Gulati said.
Thanks to the taxes and a strong procurement network, Punjab accounts for 39% of the Centres wheat procurement and 25% of its rice purchases, although its share in the countrys production of wheat and rice stands at around 14% and 10% respectively.
On the one hand, the states get wheat and rice procured from farmers in their regions at subsidised rates for supplies through ration shops. But on the other hand, they are levying taxes and charges on procurement. This is an unfair practice, said a central government official. Of course, states, on their part, feel the Centre is reducing their fiscal space through various means even as their share in Centres gross tax revenue has risen over the years under several finance commissions.
States get funds from the Centre through various schemes to develop procurement-related infrastructure. Yet, they keep imposing taxes on procurement. So, the revenue generated through taxes and other charges on grain procurement is going to the states budget and is used elsewhere. These taxes are nothing but another form of central resources states are enjoying without having to do anything special for it, said another official. Despite repeated requests to states to reduce taxes, we havent seen results, the official said.
High costs in Punjab and Haryana are affecting processing industries, including rice and flour milling, said Chandigarh Flour Mills managing director Vinod Mittal. Interestingly, most flour millers from Punjab and Haryana are forced to procure wheat from Uttar Pradesh to cut costs.
Some high-tax states argue they are charging for the depletion of water resources. They see nothing wrong in charging for their water resources when mineral-rich states get royalties.
Gulati said the procurement system needs to be rationalised and taxes and other charges should be brought down to 5% so that private players can participate. If the Centre wants, it can compensate the states concerned in some other way, but not by distorting trade, he added.