The race to acquire cash-strapped South Korean SUV maker Ssangyong Motors is getting tighter with six potential players slated to put in their bids for the company by July 20. While Kolkata-based Ruia Group has sought time extension for the bids, Mahindra & Mahindra has started the due diligence process for the bids.
A spokesperson for the Ruia Group told FE, We have sought some more time from Ssangyong Motors to put in our bids. He dismissed reports that the company had backed out of the race. We are very much in the race.
M&M president (automotive and farm equipment) Pawan Goenka on Thursday said the company would decide on the bid size during the due diligence process.
For acquiring the South Korean car company, analysts predict the bid size to be anywhere between $400 and $500 million. Apart from M&M and Ruia Group, Nissan Motor Company and its French partner Renault are also eying Ssangyong Motors. Last month, a consortium of Nissan and Renault Samsung Motors submitted their letter of intent.
Auto analyst with Mumbai-based SSKI Securities, S Ramnath, said that owing to Ssangyong's availability of superior technology in making SUVs, it makes a good buy, especially when the bid size is not expected to be very high. They have good technology to offer...Ssangyong also has a strong brand recall with its customers who can be tapped into by a company like M&M, he said.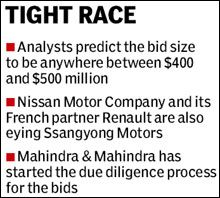 Analyst with Pricewaterhouse Coopers Abdul Majeed said prominent OEM players in the emerging markets are looking at having a global presence and an organic growth is very time consuming and does not make sense in such a competitive market. There is an aspiration quotient associated with becoming a truly global player and if there is a company that is cheap and could give a large market along with its R&D capabilities, it makes good business sense, he said.
Another auto analyst said, The Ruia Groups bidding for Ssangyong is very surprising. I don't see what prompted them to do so. Majeed added that the Ruias may be considering entering the automotive space. They (Ruias) already have a tyre business with Dunlop. Acquiring Ssangyong could be an attempt on the part of the group to go up the next level in the auto industry.
Owing to the economic slowdown, Ssangyong has been in the midst of a court-ordered restructuring process since 2009.