Peaking shortage of power in the northern region is upwards of 4,500 MW, making up a major chunk of the overall shortage across the country.
The prices of electricity in the spot market have zoomed to record highs of around Rs 6 per unit (kWh) over the last week, a reflection of the debilitating coal shortage and severe strains on the transmission interconnections between the northern and western regions.
Spot prices on the IEX, the countrys largest exchange, have shot up to over Rs 10 during peak hours, with states such as Punjab and Uttar Pradesh forced to buy in the spot market to bridge the demand-supply gap.
The peaking shortage in the northern region is upwards of 4,500 MW, making up a major chunk of the overall shortage of over 7,500 MW across the country (as on August 26). The surge in prices is also a factor of continuing coal shortages at several of NTPC Ltds baseload stations.
On an average, the volumes cleared in the IEX on a daily basis during the last week were about 90 million units. Considering that the prevailing average prices of around Rs 5.5 per unit on the exchange is at least Rs 1.5- Rs 2 per unit higher than the corresponding power generated that would have been generated by NTPC plants that are now shut due to coal shortage, for an average of 90 million units, the difference of Rs 1.5 per unit would lead to a daily outgo of an additional Rs 13 crore.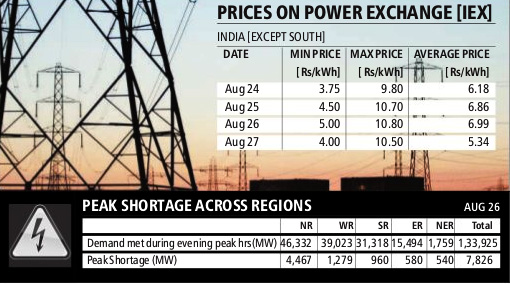 This translates into the opportunity cost for distribution utilities that are forced to shell out to additional money to buy spot power instead of the cheaper electricity that would have been generated by NTPC units if they had adequate coal.
Per month, this would mean an additional outgo of Rs 400 crore that consumers of power are forced to foot as a result of the supply disruptions of coal.
The data on outages (till August 26) prepared by the Central Electricity Authority (CEA) shows that 10 out of 13 stations reported to be under forced outages are those run by public sector firms.
There were eight units at five NTPC plants and seven units at five plants operated by the Damodar Valley Corporation that had been forced to shut down.
The three states worst hit due to ongoing power crisis in the northern region are Uttar Pradesh, which had a peak demand shortage of 4,545 MW, Punjab and Rajasthan. In Western India, over 7,600 MW of power generation capacities in Gujarat, or over a quarter of states total installed 18,510 MW, had closed down on Wednesday due to lack of coal availability, technical snag and financial problems.
The power situation is worse this year on account of the tepid monsoon, which has resulted in less hydel generation and a sharp increase in agricultural load in the northern states.