Spice Mobiles on Tuesday said it would merge with the parent company Spice Televentures as part of a plan to consolidate the group's telecom businesses. The Spice Group on Tuesday announced merger of its mobile retail business Spice Televentures with the handset division Spice Mobiles. BK Modi, chairman Spice group said, Spice Mobiles will reverse merge with Spice Televentures and the new venture will be called Spice Mobility.
The merger will result in 4.2 crore treasury shares, of which 3.2 crore will be placed in the market, helping the company raise about Rs 300 crore, Modi explained. The reverse merger will result in a cash flow of Rs 300 crore (through sale of treasury shares) and will be utilised for financing expansion of its mobile retail outlets in the country as well as acquisitions. Commenting on the company's plans, Modi said, (Post-merger) we would focus on handsets, VAS and retail chains. So any acquisition that is of the right valuation, we would look at it.
It is difficult to quantify the number of outlets that we are looking at, but we would focus on seven cities; four metros and Hyderabad, Ahemdabad and Bangalore,Modi said. The company is focusing on West Asia, Africa and Asean countries for growth, he said.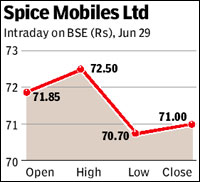 We have another firm Spice i2i, listed on the Singapore Exchange, which will raise $133 million through a rights issue. As a group, we are cash-rich and with more funds coming in, we are adequately equipped for our growth plans he said. Edelweiss is advising the Group on the merger and consolidation plan. The Spice Mobiles closed at Rs 71 on the BSE, down 1.05 %. Spice Televentures operates the group's retail arm, Spice Retail and value-added services business, Spice Digital.