Competition among 8 telecom companies make govt richer by Rs 18,296 crore in FY14.
Indias major telecom services companies have won airwaves sufficient enough to run services for the next twenty years at the end of the auctions on Thursday.
Declaring the end of the auctions telecom minister Kapil Sibal said, I am very happy to report that auction is over. The total revenue that will come to government is Rs 61,162.22 crore. To that extent (this) particular auction has been extremely successful.
The intense competition among the eight telecom companies mean the government is richer by Rs 18,296.36 crore in FY14 compared to the Rs 11,000 crore it had budgeted for this fiscal year.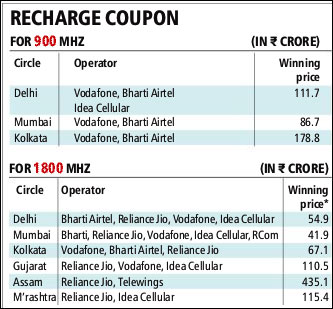 After the auctions, telecom companies like Bharti Airtel, Vodafone and new entrant Reliance Jio Infocomm can offer a far larger bouquet of services cutting across 2G and 3G services and also take the first step towards offering 4G services.
While 2G is good only for voice, a huge range of data services including movies and interactive government services start becoming available in 3G. Indian telecom service companies were gasping for lack of spectrum to offer such services which the current auction will go a long way to solve.
The government had put on block 385 MHz in the 1800 MHz band, and 46 in the 900 MHz band. About 78 MHz remained unsold in 1800 MHz band.
Telecom secretary MF Farooqui added that bids of Rs 37,572.60 crore had come in for 900 Mhz band and Rs 23,589.62 crore for 1800 making about Rs 61,162 crore from the extremely successful auction as Sibal described it.
Marten Pieters, MD and chief executive officer, Vodafone India said the auction has opened the doors to the next generation of mobile technology. He said Vodafone is now the only operator in India to have data capabilities on all the commercial spectrum bands: 3G on 900MHz and 2100MHz and 4G on 1800MHz.
The sum realised by the government in this fiscal crossed over 90 per cent of the money that the government had received in the 3G spectrum auction in 2010 that got it Rs 67,718.95 crore. Sibal avoided an answer to whether the high prices will raise tariff for consumers.
Gopal Vittal, Joint MD & chief executive officer India at Bharti Airtel said that to keep prices lower future auctions should ensure that more spectrum in the 900 MHz band is secured from other agencies and operators who are grossly under utilizing this important spectrum band.
The auction also highlights the urgent need for vacating E-GSM spectrum in the 800 MHz band, which is being used for older technologies or is lying unused with certain agencies, Vittal said.
Morten Karlsen Sorby, nominated chief executive officer of Uninor too said, It is critical that mobile tariffs remain affordable for the mass market after the auctions. With its auction strategy, Uninor has ensured that it can continue to offer the most affordable tariffs in each of its seven circles while maintaining a healthy business case.