MindTree founder-chairman Ashok Soota on Friday submitted his resignation, coaxing the Indian software industry to deal with its second shock development in successive weeks. Last Friday, it was Wipro making all the news with its decision to elevate TK Kurien to the CEOs position, leaving joint CEOs Suresh Vaswani and Girish Paranjpe out in the cold.
Soota attributed personal reasons for his decision to resign. It is something I have thought about for a few months and arrived at a well-considered conclusion. I will finalise and announce my plans for a new business venture, shortly after my departure from MindTree.
I have submitted my resignation to the board of directors of MindTree and have requested for my release by March 31, 2011, as an employee and also as executive chairman/member of the board, he explained. He had co-founded MindTree in August 1999 with nine others. Sources said Soota is likely to start a new technology venture. Board members of the company were unreachable for comment. Anjan Lahiri, MindTrees CEO (IT services) told FE from Boston: This (new venture) is part of what Ashok Soota has been thinking of. I have nothing more to add.
Sootas resignation, along with changes in Wipro and the imminent exit of Narayana Murthy at Infosys, signals the end of an era in Indian IT. The new order seems to be taking over, to face the bigger challenges of a new decade. Vice-chairman Subroto Bagchi is widely tipped to take over as new chairman, but theres no confirmation on it yet.
An analyst said the development is not good for the company.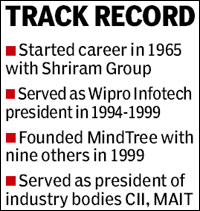 It can be demoralising and will put the top management under more pressure in a difficult time, he noted.
But Soota is not admitting to any such concerns. We can take justifiable pride in creating an organisation with the highest standards of corporate governance, a great place to work, an admired knowledge enterprise and high levels of customer satisfaction, Soota said. Since MindTree already has a CEO & MD (Krishnakumar Natarajan), transition will not pose any difficulties. MindTree leaders are persons of finest financial integrity and I am confident of their ability to achieve the companys goals, he said on an optimistic note.
But MindTree's latest numbers don't reflect that optimism. Its net profit for the third quarter declined by 43.27% to touch Rs 30.5 crore. This is against a net profit of Rs 53.77 crore for the corresponding period last year. However, revenues for the quarter was up 15.94% at Rs 384.76 crore from 331.85 crore. Over the past few quarters, the company had displayed some inability to scale up its business. There was never any doubt about the capability of its top management team led by Soota and vice-chairman Subroto Bagchi, both Wipro veterans. MindTree was designed to challenge TCS, Infosys, HCL and Wipro but it never really happened that way. Its decision to launch a 3G smartphone, on the Android platform too had backfired. Its 2009 acquisition of Aztecsoft was also not yielding appropriate numbers. In this context, something that Bagchi said a year back assumes significance. The first 10 years were the years of the founders. The next 10 will be the years of the non-founders. One of chairman Ashok Sootas dreams is that by 2020, the chairman should be a non-founder, he had said.