Even as smartphones start eating into the feature phone segment as their prices start coming down, International Data Corporation's (IDC) Worldwide Quarterly Mobile Phone Tracker has predicted that worldwide smartphone shipments will slow down to as low as 6.2% in 2018.
In 2013, smartphone shipments surpassed 1 billion units for the first time, accounting for 39.2% growth over 2012. In the coming year, IDC expects mature markets like North America and Europe to drop to single digits, while Japan might even contract slightly.
There are countries like India that are an exception with over 44 million units shipped in comparison to 16.2 million in 2012, IDC says 2014 will be the year smartphone growth drops significantly than ever before. In 2014, 1.2 billion shipments are expected, up from 1 billion in 2013, but representing only a 19.3% year-over-year growth.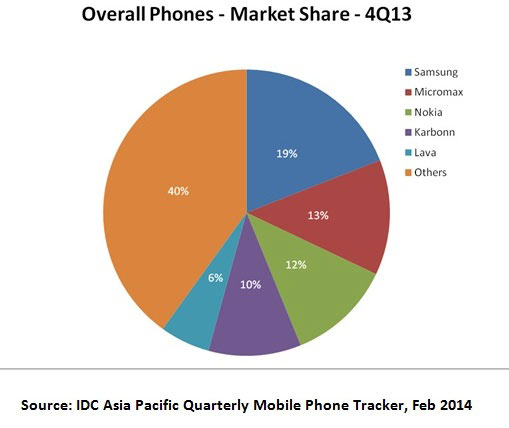 Ryan Reith, Program Director with IDC's Worldwide Quarterly Mobile Phone Tracker said 2014 will be an enormous transition year for the smartphone market. "Not only will growth decline more than ever before, but the driving forces behind smartphone adoption are changing. New markets for growth bring different rules to play by and 'premium' will not be a major factor in the regions driving overall market growth."
"In order to reach the untapped demand within emerging markets, carriers and OEMs will need to work together to bring prices down," said Ramon Llamas, Research Manager with IDC's Mobile Phone team.
In India, where this has been happening for some years now, 2013 registered a remarkable migration of the user base from feature phones to smartphones. "The growth in the smartphone market is being propelled by the launch of low-end, cost competitive devices by international and local vendors which are further narrowing the price gaps that exist between feature phones and smartphones", said Manasi Yadav, Senior Market Analyst with IDC India. Incidentally, over the past year, phablets have emerged as a substantial segment, accounting for 20% on the smartphone shipments in the last quarter.
samsung is the dominant smartphone vendor in India with a 38% market share, followed by Micromax with 16% and Karbonn with 10%.
Globally, Android continued to have an unassailable lead over other operating systems. It accounted for 78.9% of all smartphones shipped, followed by iOS at 14.9%. However, Microsoft's Windows Phone seems poised for growth as IDC predicts the OS to have 7% market share by 2018, by when BlackBerry will be almost wiped out.