Kingfisher, Canara Bank, Kouton, Lanco & HDIL have gained 30%-70%
The Sensex has saluted the government's reforms initiative, as also the prospect of abundant liquidity in the wake of monetary easing by the ECB and US, rallying 9% in just three weeks. But while large blue chips have driven up the benchmark, it's mid-caps and small-caps that have been the bigger gainers: Sectoral indices have put on close to 10%.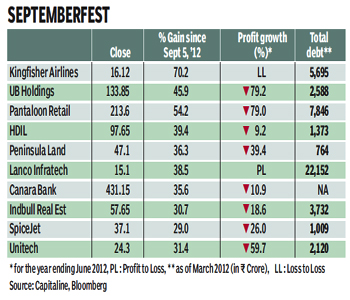 Stocks like Kingfisher Airlines, Pantaloon Retail, Spicejet and Kouton have rallied between 30% and 70% since September 5, 2012. Indeed, even if one were to compare the performance since January this year, smaller stocks have outperformed their larger peers: the BSE small-cap and mid-cap indices have yielded 26% and 29% respectively, against 21-23% returns from the Sensex and the Nifty.
No doubt there are stars among large-caps too: Reliance Industries, Larsen & Toubro, ICICI Bank and Hindalco have all gained between 20% and 21%. But the nod for 49% foreign direct investment (FDI) in civil aviation and 51% in multi-brand retail have, in particular, pushed up prices of aviation and retail sector stocks. Kingfisher, the debt-ridden carrier with total loans close to R7,000 crore, has jumped as much as 70% since early September with promoter Vijay Mallya hinting that some equity infusion is on the cards. Group companies United Breweries Holdings and United Spirits joined the party soaring 46% and 20% respectively as British liquor manufacturer Diageo confirmed it might pick up a stake in United Spirits.
The retail pack Pantaloon Retail, Kouton Retail, Shoppers' Stop and Trent has rallied between 11% to 54%.
The capital-starved Pantaloon, burdened with debt of Rs 7,846 crore, could benefit from the entry of foreign retailers, though as JPMorgan points out, state-level discretion may force the company to consider separate alliances or partnership structures.
The change in sentiment has lifted even stocks like Lanco Infratech. A highly leveraged infra player total debt stands at Rs 22,152 crore while the net debt to equity ratio is a high ad 5.6 whose June quarter net loss exceeded analyst forecasts, the stock has surged 38%. The firm says it it will sell power and road assets and hopes to raise about $1 billion.
Again, despite big concerns about asset quality stocks like Canara Bank, Bank Of Baroda and Punjab National Bank high-beta counters have rallied by more than 25%. HSBC points out that Canara Bank has the highest exposure of about 30% to stressed sectors including airlines, agriculture, commercial real estate, textile and metals and that most PSU banks face higher stress due to lower equity and the fact that they are are prone to higher equity damage in the event of large scale defaults. But the BSE Bankex has gained 16% in three weeks and has been the top sectoral performer since January with a return of 43%.
Other two high-beta and interest rate sensitive sectors that have done well are real estate and capital goods; the sectoral indices have gained 22% and 18%. Four stocks that have put on 30-40% are HDIL, Peninsula Land, Unitech and Indiabulls. June quarter numbers of HDIL the biggest gainer disappointed the street on almost counts whether revenues, cash flows or profits much like its peers in the space.