The governments divestment programme for the new fiscal got off to a reasonably good start on Thursday with the initial public offering of SJVN getting subscribed 0.43 times. Total bids were received for 17.7 crore shares against the issue size of 41.5 crore.
The qualified institutional buyers category was subscribed 0.7007 times while the non-institutional investors category was subscribed 0.0031 times. Retail individual investors category got subscribed 0.0368 times. Foreign institutional investors and mutual funds have not bid for any shares. The issue, which closes on May 3, is expected to raise a little above Rs 1,000 crore at the upper end of the price band of Rs 26.
Its not a bad response but its not exceptional either, said G Ganesh, president, Collins Stewart Inga. The issue size of Rs 1,000 crore is relatively smaller than the earlier public issues. With a cluster of investment banks supporting this issue, I dont see too many problems for it. The key gauge for the success of this issue is the response from the institutional side. I would like to see 30-40 institutions participating in this issue.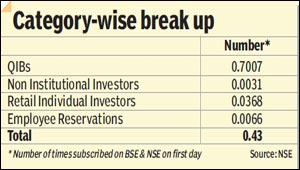 The government has received a tepid response for most of its issues so far. For instance, the Rs 9,930-crore NMDC follow-on offer was subscribed just 0.17 times on the first day of the issue and was covered only on the last day of the offer with most bids at the bottom of the price band. FIIs and retail investors had mostly stayed away and the issue was bailed out by state-run investors LIC and State Bank of India. Similarly, the Rs 3,486-crore REC FPO received a poor response on the first day and was subscribed 0.28 times. The Rs 8,286-crore NTPC FPO, however, had received a much better response, getting subscribed 0.77 times. Retail investors had largely stayed away from both these issues.