While the Centre has asked states to roll out the National Food Security Act, 2013, by October, when the coverage of Targeted Public Distribution System (TPDS) will increase to an estimated 84 crore people from 55 crore now, the capacity of states to handle more foodgrain is doubtful given their poor offtake record in the last few years.
Official data since 2012-13 indicate that state governments have failed to take delivery of the entire quantity of grain allocated under the TPDS for above-poverty-line (APL) families and the poorest of the poor served under the Antyodaya Anna Yojana (AAY). In FY14, for instance, the offtake of rice by states for APL families was 93% of the allotment, while in case of AAY, only 77% of the grain allocated was lifted by the states.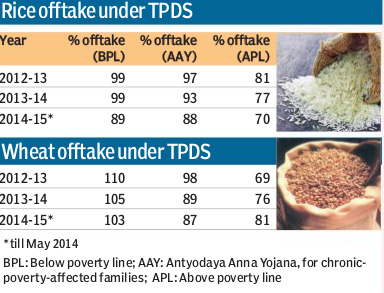 About 8 crore families are deemed APL while 6 crore families are below the poverty line (BPL). The AAY scheme is meant for 2.5 crore families.
Food ministry officials attribute the low offtake to lack of storage and distribution capacity in the states. As the Economic Survey pointed out, even as minimum support prices (MSPs) are announced for various crops, the procurement policy is effective for only rice and wheat and that too only in a few states. As such the Food Corporation of Indias procurement operations are suffering from dis-economies of scale not only due to big hikes in MSPs in recent years but also irrational stocking up, which inflates subsidy bills.
Despite lower procurement of wheat in the last two years, FCI had grain stocks of 68 million tonnes at the start of the month, which more than double the buffet stocks norms.
The food subsidy budget of the government is assumed to increase by more than 35% to R1.15 lakh crore in the current fiscal from R85,000 crore in 2012-13. If the FCIs unsettled dues from the finance ministry to the tune of R50,000 crore is taken into account, the actual food subsidy budget could be much higher.
Bigger states including Uttar Pradesh, Andhra Pradesh, Madhya Pradesh, Bihar, Jharkhand, West Bengal and Odisha have not taken delivery of entire quantity of foodgrain allocated to mostly APL families. The states are allotted foodgrain for implementation of TPDS on the basis of population estimates of Registrar General of India, 2000.
The Centre provides rice to states at R565 per quintal for BPL families and R795 per quintal for APL families. Similarly, wheat is allocated to BPL and APL families at R415 per quintal and R610 per quintal, respectively. AAY families get foodgrain at R300 per quintal (rice) and R200 per quintal (wheat). All families are entitled 35 kg of foodgrain monthly under TPDS.