Power minister Sushilkumar Shinde on Tuesday snubbed the central power sector undertakings (CPSUs) for slippages in capacity addition, implementation of the UPAs flagship programme, rural electrification and hydro projects. State-run National Thermal Power Corporation (NTPC, NHPC, North Eastern Electric Power Corporation (Neepco), PowerGrid Corporation are asked to pull up socks or face consequences. Shinde made it clear that he would personally hold chiefs of these CPSUs responsible for further delays and warned that he would further tighten the monitoring of project implementation. As reported by FE, against the capacity addition target of 78,700 mw, the actual capacity of 62,374 mw will be added by the end of 11th Plan.
Power ministry sources told FE, The minister also asked NTPC, Central Electricity Authority (CEA) and Bharat Heavy Electricals Ltd (Bhel) to sort out the issues within a month and expeditiously take up projects implementation. Shinde appreciated NTPCs drive to add over 22,000 mw during the 11th Plan but he was quite disappointed over the power companys delay in the implementation of Barh II (1,320 mw), Sipat (1,980 mw) and Koldam hydro project (800 mw). There were slippages largely due to the contractual and management issues.
NTPC officials have assured Shinde that the company would be able to complete the necessary formalities including the approval of board and take up project completion on a faster mode. NTPC has projected that it would be possible to achieve capacity addition of 4,000 mw. These projects include Sipat (1,980 mw), Koldam hydro project (800 mw), phase I of 500 mw each of Mauda and Rihand by the end of 11th Plan.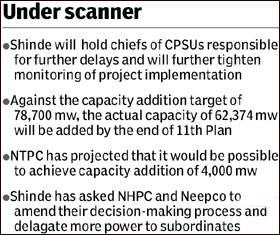 On slow pace of hydro capacity addition, Shinde asked NHPC and Neepco to amend their decision-making process and delagate more and more power to subordinates in their respective organisations. NHPC is engaged in capacity addition of 2,000 mw and Neepco is in the process of implementation of 600 mw.
On the UPA governments flagship project, the Rajiv Gandhi Grameen Vidyutikaran Yojana, Shinde expressed serious displeasure over the slow progress made by these undertakings. In case of PowerGrid Corporation, which is engaged in the completion of national grid of 37,000 mw by end of March 2012, has covered so far 1,100 villages against the MoU target of 3,200 villages and the department target of 6,000 villages.