The Sensex and Nifty will grow between 40% and 50% and are expected to touch 26,000 and 7,000, respectively by end of 2010.
By March 2010, the Sensex will cross the 20,000 mark and the next three to four years will be that of buyers market only, said Kishor P Oswal, chairman and managing director, CNI Research, a listed entity with a major focus on research in small and mid-cap companies.
Investors have not yet returned to the market. There is lot of money sitting ideal. The ownership pattern is not up to the level that of early 2008 and 2007 and the foreign institutional investors (FIIs) are waiting for an opportunity to flood the Indian equity markets with a warchest of over $12 billion to $15 billion as liquidity, Oswal told FE.
With the total liquidity reserve of around $8 to $10 billion in hand, the mutual funds, which have withdrawn their active participation into the equity markets for quite sometime due to volatile condition (owing to global meltdown), are expected to revive their activities in a big way. This will help Sensex cross the 25,000 mark, he said.
Having undergone major corrections in the last one year or so, the Indian equity markets are expected to see buyers sentiment in 2010. Considering the increasing liquidity in hands and reduced ownership pattern (HNI were involved in selling spree), and less supply of quality issues (IPOs), one would see the equity markets flooded with strong secondary market activities in a big way, he pointed out.
According to him, having successfully reaped rich benefits on their investments in early 2008 and 2007, the FIIs are set to return with a big bang.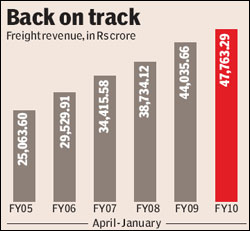 With their cheap borrowings of funds and expected extension of US stimulus packages beyond 2010 to 2011, the FIIs have no alternative but to invest in the emerging markets like India. We expect at least $12 to $13 billion investments to be made in India during 2010, he said. With no quality IPOs in the near future, most of the activities are expected to be around secondary markets, he added.
With the governments renewed and serious interest towards disinvestment programme, one would see a sharp rise in the indices of large and small as well as mid-cap companies. The Nifty too is expected to touch 7,000 mark, he added.
Due to possible rupee appreciation, the IT sector may underperform. Even the auto sector too may not witness good response in the equity markets owing to its maturity. Sectors including textile, mining, metals, cement, insurance, financial services, education will perform better in 2010 over 2009 and will also attract strong investments. Cement could be a surprise puller, he said further.