Indian equities climbed to the highest in 10 weeks as world markets rallied after European leaders agreed on a bank recapitalisation plan for Europe and said they would take necessary steps to lower the borrowing costs of Italy and Spain.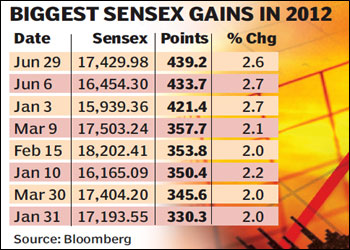 The Sensex closed above the psychological 17,000 mark on Friday, gaining 439.22 points or 2.59% to close at 17,429.98, while the broader 50 share NSE Nifty was up 129 points or 2.52% at 5278. Foreign institutional investors (FIIs) went on a shopping spree, purchasing shares worth R3,046 crore, provisional BSE data shows. The benchmark indices were up 2.7% for the week. In the year-to-date, the benchmark BSE Sensex is up 12.8% but is down about 5.4% from the high it touched on February 21 this year.
Euro zone leaders also agreed to take emergency action to bring down Italys and Spains spiralling borrowing costs and to create a single supervisory body for euro zone banks by the end of this year, a first step towards a European banking union, said Dipen Shah, Head of Fundamental Research, Kotak Securities. Apart from this, optimism on more fiscal reforms from the Indian government supported the markets.
The benchmark indices ended the week in the green, helped by a series of upgrades by foreign brokerages. Following on the heels of an upgrade by JP Morgan last week, Deutsche Bank upgraded India to overweight from neutral this week, while Morgan Stanley upgraded India from underweight to equal weight. Last week, the RBI had maintained a status quo on interest rates, triggering a steep correction in the market. Indias economy grew 5.3% in the March quarter over the same period the previous year, the least in nine years, which had triggered hopes of a rate cut.
On Friday, most of the key indices in Asia Pacific ended in the green. The Nikkei 225, Straits Times and Shanghai Composite indices closed higher by 1.5%, 1.1% and 1.35%, respectively. The Hang Seng index climbed the most at 2.2%.
All three major European indices rallied handsomely on Friday. The FTSE 100 was trading higher by 1.5%, while the DAX and the CAC were up more than 2.5% each. The Dow Futures was up 144 points at 12670 at 6.00 pm India time. Brent crude oil prices were ruling higher by $2.82 at $94.95 per barrel.
Back home, 29 of the 30 Sensex stocks advanced. In the broader market, breadth was strong with 1864 stocks traded on the BSE ending higher compared with 988 declines. All of the 13 BSE sectoral indices ended in the green. Capital Goods, Power, Bankex and Metal indices rose more than 3% each. Unlike the FIIs, domestic institutional investors sold shares worth R250 crore on Friday. FIIs have bought shares worth about $9 billion in the year to date.
Market participants continue to remain uncertain about the future. Economic recovery in West continues to be fragile, as it is generally policy-induced, not private demand-led. As a result, market leverage has been shifting from private hands to sovereign balance sheets, with massive long-term consequences, Navneet Munot, CIO, SBI MF, said.
The NSE cash turnover on Friday was at R13,143 crore, while the six monthly daily average is about R11,000 crore. Turnover in derivatives was about R1.02 lakh crore and the daily average for the past six months is R1.26 lakh crore.
India VIX, a volatility index based on the S&P CNX Nifty index option prices, declined 7.47% on Friday to 19.08.