Indian equities slipped to a four-month low on Thursday as worries over economic and political uncertainty, coupled with weak global cues, led to broad-based selling by foreign portfolio investors. Concerns of early polls and an earnings downgrade weighed on investors.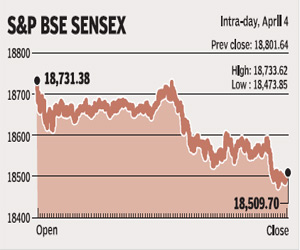 The 30-share Sensex tanked 1.55% or 291.94 points to settle at 18,509.70 the lowest since November 23 last year. The Nifty also slipped to a four-month low, with the 50-share index losing 1.73% or 98.15 points to end at 5,574.75. Smaller stocks fared worse; the BSE Midcap and Smallcap indices lost 2% each. India is among the worst-performing markets in Asia with the Sensex giving up 4.9% in dollar terms since January. Bank of America Merrill Lynch believes that earnings per share (EPS) for the Sensex in 2013-14 is likely to be under R1,300, depicting an earnings growth of 8-9%. As a result, the current consensus expectations of 17% bottom-up growth faces facing a risk of downgrades. Credit Suisse expects another 8-10% downside (in earnings estimates).
Most Asian indices like the Hang Seng (down 0.14%) South Korean Kospi (down 1.2%), and Straits Times index (0.42%) also ended weak on Thursday. Japanese markets were an exception, with the Nikkei gaining over 2% after the Bank of Japan said it would double bond purchases and revive economic growth in the worlds third-largest economy.
Major indices in Europe pared early gains and were trading in the red after Bank of England kept its stimulus programme on hold due to inflation expectations and dovish comments by European Central Bank chairman Mario Draghi.
US stock futures were trading down nearly 1% on Thursday as tensions in the Korean peninsula escalated after North Korea ratified a law this week authorising plans for counter-actions against US aggression including a nuclear strike. North Korea has stepped up threats against the US by authorising the military to conduct a potential smaller, lighter and diversified nuclear strike while again restricting South Korean access to a joint industrial zone.
Provisional data put the selling by foreign institutional investors (FIIs) at $59.44 million on Thursday the third successive session of selling. Even with Thursday's sales, however, FIIs have sold Indian equities on just six out of 63 occasions in 2013, having pumped in $10 billion worth of Indian equities so far this year.
Analysts are of the view that global events in the form of on-going European debt crisis and political tensions erupting between the Koreas have led to nervousness in markets world-wide. In addition to weak Q4 earnings estimates and economic data, the Korean crisis has made Western investors apprehensive about Indian and global markets, said Saurabh Mukherjea, head of equities institutional equities, Ambit Capital.
Meanwhile, according to Mridul Mehta, executive VP, ICICI Securities, the lack of positive announcements has failed to enthuse foreign investors. Political uncertainty is likely to prevail, which would make execution of economic reforms difficult going forward, Mehta said. Market breadth was weak, with 1,850 stocks losing ground, as against only 907 gainers. All sectoral indices ended in the red with stocks of realty, technology and consumer durables' companies ending among the biggest losers.