In what appears to be a return of risk-aversion, Indian equities along with global markets corrected sharply on Tuesday on concerns that an unsettled parliamentary election may awaken Europes debt crisis. Indian stocks plunged to their lowest in nearly three months also as the railway Budget turned out to be a non-event, while traders remained anxious ahead of the Union Budget, scheduled for February 28.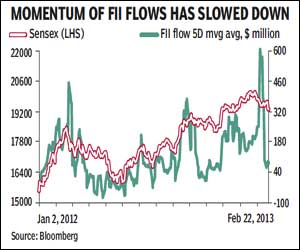 The 30-share S&P Sensex and the broader Nifty both declined 1.6% to their lowest since November 29, following a sharp sell-off across the board. The Sensex fell 316.55 points to 19,015.14, while the Nifty dropped 93.4 points to 5,761.35, closing below psychologically important marks of 19,500 and 5,800, respectively.
Other Asian and European markets also traded in the red as traders feared Italy may have to dilute its austerity measures after the latest election measures indicated the probability of a hung parliament as none of the political groups won a majority in both the houses. After this outcome, European indices, including UKs FTSE 100, Germanys DAX and Frances CAC 40, dipped 2-3%. The Italian market, represented by the MIB index, dropped by nearly 5%. Even Asian markets, namely, Shanghai Composite, Korean Kospi, and Hang Seng each fell by more than 1%.
Following the development, risk-off trade also pushed yields on Italy and Spain government bonds higher and global gold prices made a temporary run towards $1,600 an ounce.
Back home, the muted railway budget failed to support the markets, even as the same indicated linking the freight charge revisions to fuel costs. While the railway minister did not extend hikes in passenger fares announced in early January 2013, the targeted operating ratio priced in only marginal improvement. Even the lower targeted budgetary support growth of 8% in 2013-14, compared to 20% in the current fiscal, failed to enthuse the market.
Nearly half of the top 50 stocks declined more than 2% even as the plunge was led by Bajaj Auto and Hindalco, each of which lost more than 4%. HDFC, ONGC, RIL, Coal India, Tata Steel and automakers like Tata Motors and M&M were amongst the top losers who declined 3% to 4% on Tuesdays trade. IT majors TCS and Infosys along with Bharti Airtel were the few gainers of the day, having added close to 1.5%.
Even mid-cap and small-cap stocks, which faced heavy selling pressure on Monday, extended their decline with respective broader indices falling 1.8% and 2.5% in that order.
Even after a one-sided drop in the market, foreign institutional investors remained net buyers of R75 crore or $13 million. However, a closer look at their purchases shows that the momentum of buying has substantially cooled down in the recent past with the five- day moving average of their net buying falling to $80 million in the last three sessions compared with more than $500 million in mid-February.
Not surprisingly, with the recent more-than-5% market dive from its two-year high, the Nifty is currently trading below its 100-day moving average (DMA), or medium-term trend indicator for the first time in three months also as the number of its constituents trading below their long-term indicators or 200 DMA has also fallen to its lowest in the period.
India VIX, a gauge of market volatility, rallied to 17.36, its highest in five months. The market breadth turned negative as 2,072 market-declines were observed against 774 advances.