Software biggie Microsoft has come up with a novel idea to curb the rampant sale and use of pirated software in the countrygive monetary incentives to the retail store owner to sell genuine software
Genuine software makes smart business sense too. At first sight, it might be cheaper to buy pirated software than the original, but the harsh truth is that consumers expose their systems to spyware, malware, and viruses that can lead to identify theft, loss of data, and worse. Companies too face potential risks to their reputation from the use of counterfeit software, especially if there is a resulting loss of sensitive data.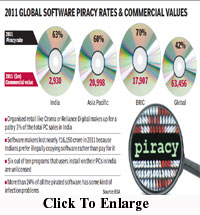 Sample this. A few days back, Microsoft India director of Genuine Software Initiative, Sumeet Khanna got a call from one of his friends. His friends daughter was working on the PC for some homework assignments that had to be completed online and suddenly the PC screen went blank. Since I work for Microsoft, they asked if I could help. And then I figured out that they were running on non genuine copies. He actually called me and said that he couldnt tell his daughter that the PC was running on pirated software! There are several examples like this where people do not know they have pirated software and what disadvantages it can have, says the Microsoft official.
Microsoft is undertaking several steps to ensure that companies and consumers dont jeopardise themselves or their business by purchasing counterfeit software.
Zooming into Microsofts retail presence in India, Dinis Couto, general manager, World Wide Anti-Piracy, Microsoft informs, We have 18,000 partners in India and it is a significant part of our business that we create jobs by selling software or services based on these Microsoft software. Of these 18,000 partners, the middle tier or the breath retail includes stores like Sony and Dell or multi-brand stores constitutes 5,000 of the partners. Then there is the micro-retail or the bottom-layer retail stores in places like Nehru Place, which are like small shops and are very difficult to manage.
But what does Microsoft do to counter the fact that pirated copies are preferred by customers Sumeet notes, We are offering incentives for the middle tier and micro stores so that they can convince the costumer that if he buys and uses pirated software, he is prone to security vulnerabilities. He has to do that educational pitch and convince the customer to look at the genuine software. Microsoft gives monetary incentives to the retail store owner and the sales man if he is able to sell a genuine copy. The company keeps tracks of these sales through internal metrics.
The real problem
Unfortunately, organised retail like Croma or Reliance Digital makes up for a paltry 3% of the total PC sales in India. At a global level, the statistics are different. In US this percentage is as high as 44%. For Microsoft, of the 18,000 partners in the country, these retail stores are very few, say about four or five in number.
It is a fact that many Indians knowingly or unknowingly buy pirated copies and companies like software biggie like Microsoft receive numerous complaints in their call centres. A study by Business Software Alliance (BSA) claims that software makers lost nearly R16,150 crore in 2011 because Indians prefer illegally copying software rather than pay for it. Also, 43% of computer users in India admit that they have acquired pirated software.
Some users said that they pirate all or most of the time. Others said that they do it occasionally or rarely. The net effect was to fuel a software piracy rate of 63% last year in India, meaning more than six out of ten programs that users installed were unlicensed.
Coming back to the problems in the Indian market, Sumeet shares what happens in Nehru Place. When a costumer walks into a store saying he has a budget of R30,000 to buy a computer, the shopkeeper offers him choices which include PCs running on original Windows and the others with a pirated Windows. The shopkeeper offers a PC with pirated software for R26,000 and says that one could save R4,000 and use that remaining money to buy a printer. That guy at the point of sale can actually control the buying experience of the consumer who walks in. This is exactly what happens so what we have do is basically educate the owners and incentivise the person at retail point of sale, he feels.
In the larger picture, more than 24% of all the pirated software has some kind of infection problems which may be virus in your computer.
Isnt it time for retailers to think about the incentives they can earn on selling genuine software, rather than the commission they make on pirated software