In a move that will broaden the currency derivatives market, the capital market regulator on Friday allowed options trading in the rupee-dollar spot rate on stock exchanges. So far, these options were available only in the OTC Exchange of India (OTCEI) market. Its now up to the stock exchanges to kick off trading after obtaining approval from Sebi.
Said Hitendra Dave, head, global markets at HSBC: This is in line with the move to provide greater flexibility to every segment of the market to be able to hedge. Options trading on exchanges should help smaller users in particular, who were not able to access the OTCEI market.
Unlike the OTCEI market where the products are customised, contracts on exchanges will be standardised like European style contracts with put and call options. Unlike American options, European options can be exercised on expiry. As per the circular issued by Sebi, mark-to-market gains or losses of currency options contracts would not be settled in cash for outstanding options positions. Said RK Gurumurthy, head of trading, ING Vysya Bank: It will bring about more retail participation and impart greater transparency to the market.
The size of a contract will be $1000 and will be settled in cash in Indian rupees.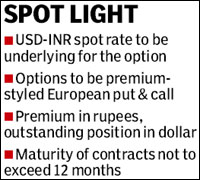 While the premium will be quoted in rupee terms, the outstanding positions would be in US dollar terms.