State Bank of India, (SBI), the countrys largest bank fixed its base rate at 7.5% on Tuesday. The rest of the public sector pack including Punjab National Bank, Allahbad Bank, Union Bank & Bank of Baroda chose to play safe and be somewhat less competitive by opting for a slightly higher rate of 8%. Among the larger public sector banks (PSBs), only Canara Bank is yet to announce its base rate.
The remaining banks, including private sector majors HDFC Bank, ICICI Bank and Axis Bank will announce their base rates on Wednesday and are expected to come up with rates that are lower than those announced by the state-owned banks. The new base rate system rate will replace the existing lending mechanism, based on the Benchmark Prime Lending Rate (BPLR), and comes into effect from July 1. Banks will, however, continue with the existing contracts till they expire. As is known, the base rate is a floor rate below which banks cannot lend except to certain categories of borrowers.
OP Bhatt, chairman, SBI, said he expects demand for loans to remain intact and clarified that the bank had taken into consideration the deposit rate for six months while arriving at the base rate. We offer 5.5% for six-month money at present and have added on other costs, Bhatt said at a press meet in Mumbai on Tuesday. The SBI chairman explained that while interest rates could go up for certain borrowers by about 25%, for others, the interest rate on loans could fall. He concurred with the view that corporates may use the commercial paper (CP) market more frequently. However, it will not happen overnight and we at SBI will help them borrow in this market. However, for other companies, the rates will remain unchanged, he said.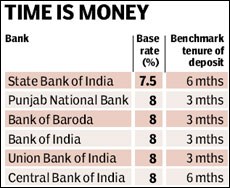 Bhatt asserted that there would be no impact on SBIs net interest margin (NIM) and profitability with the new system coming into place, since the applicable rate of interest would remain unchanged. Asked whether it was possible that the private sector banks would set a base rate of below 7%, Bhatt said there could be a difference of 50 basis points between SBIs rate and that of private sector banks.
The question that arises is whether they will be able to mobilise resources at such a low cost, he said, adding that since the market share of private sector banks was merely 20%, it wouldnt make much of a difference to SBI.
Paresh Sukthankar, executive director, HDFC Bank, said he did not expect any impact on the banks profitability or growth because of the change in the lending regime, adding that most banks would fix the base rate at 6.5-8%. Sukthankar, however, said there could be some increase in the rate offered for short-term loans.
While the base rate takes effect from July 1, banks have a window of six months to get familiar with the new regime during which they can change the benchmark and the methodology. In April this year, the Reserve Bank of India laid out revised guidelines for moving to the base rate system, allowing banks to use whatever benchmark they felt was best suited to arrive at the rate, provided it was consistent. However, the central bank asserted that the methodology needed to be transparent and also suggested that banks review the rate at least once a quarter.