The company secretary of Satyam Computer (now Mahindra Satyam), G Jayaraman has moved an application in the Company Law Board (CLB) for vacation of an interim stay to enable him to dispose of his personal assets. CLB had taken the decision to freeze Jayaraman's assets on January 23 last year following the revelation of fraud in Satyam until the investigations were not over.
CLB has directed the government to file reply within eight weeks time whether the stay should be vacated or not. G Jayaraman had approached the Company Law Board on Tuesday requesting it to lift the ban on selling his personal property and assets.
Jayaraman's move of asking CLB to vacate stay from his assets comes after Mahindras announcement that Satyam Computers will be merged with its flagship IT firm Tech Mahindra after settlement of accounts of the new entity which is expected to be completed by June this year. Jayaraman, who has been continuing as the company secretary of Satyam Computers and Mahindra Satyam, is one of the few Satyam employees who is under the ambit of investigation.
A CLB official told FE, "Jayaraman has filed a sealed envelope regarding details of his movable and immovable assets." Admitting the petition, CLB chairman Justice Raosaheb Deshmukh has scheduled the next hearing for April 7.
During the proceedings, government officials informed CLB that investigations into the Satyam fraud is in progress and that the Serious Fraud Investigation Office (SFIO) is still probing it.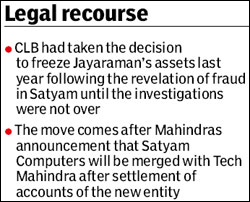 After the biggest corporate fraud unfolded, the Institute of Company Secretaries of India had sent a letter to the two company secretaries of Satyam Computer ServicesG Jayaraman, global head of corporate governance and Savita Jyoti, practicing company secretary of Satyam Computerson their role in the accounting fraud. The institute later did not find any involvement of the two of them in the corporate fraud.
NK Jain, secretary, ICSI told FE, "On the basis of the investigation done by the core group and the information provided by the two company secretaries, the institute is of the view that there is no cause of concern with reference to the company secretaries."
Tech Mahindra had acquired Hyderabad-based Satyam in June last year for about Rs 2,890 crore and was renamed as Mahindra Satyam. At present a forensic auditing of Mahindra Satyam is being conducted by KPMG and the accounts are likely to be finalised by June.