A year after its acquisition by Tech Mahindra, Mahindra Satyam, formerly Satyam Computer Services, is still unable to attract any new large client or woo back some of the big customers it lost following the Rs 7,000-crore fraud involving its former chairman Ramalinga Raju. Failure to bag large clients, at a time when the global economy is improving and Indian IT services firms are seeing flow of large contracts, is expected to be a drag on the revenues of the company. Mahindra Satyam, which has been given a June 30 deadline to come out with its audited results, might also seek an extension of the date, industry sources say.
In April last year, Tech Mahindra acquired a controlling stake of 51% in Satyam for Rs 2,889 crore, outbidding other suitors like engineering giant Larsen & Toubro (L&T) and private equity player Wilbur Ross. Recently, L&T, which holds 4.58% stake in Satyam, accused the firm of keeping its shareholders in the dark by not disclosing any information on sales, Ebitda, number of employees or any other information.
At a recent analysts meet held in Hyderabad, Mahindra Satyam said it was able to acquire about 54 new clients since January 2010. However, it has not been able to get back any of its large clients who opted out of contracts with Satyam following the disclosure of the fraud. Satyam was estimated to be hit in the range of $350- 400 million as a result of these client losses. Some of these large clients were General Electric, General Motors, Nestl, Tesco, Cisco and the United States government.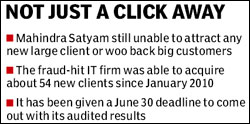 Satyam has won 54 new clients since January 2010. However, none of these are large clients. They are all medium sized. At the moment, the firm has not been able to get back any of the lost clients and the management is still trying to get the firm back on track, a source close to the firm said.
A good proportion of these clients come from emerging markets (Asia Pacific and East Asia) and in terms of value, the mature markets (the US & Europe) contribute most of the revenues. However, the Satyam management has taken an aggressive stance by taking up a lot of these contracts on an outcome based model, said Arup Roy, a senior research analyst at Gartner. These clients are largely from the manufacturing, enterprise applications and BPO space. When contacted, Satyam officials refused to comment, citing that the firm was in a silent period. Another area of concern for Satyam is its increasing attrition level. The attrition level within the firm continue to be higher than the industry levels of 14-18%, said a source in the company. Satyam has been trying to retain the existing set of employees, especially at managerial levels by offering better pay hikes as compared to its peers, the source added Satyam is, however, expected to officially give increments by July.