India-born Satya Nadella replaced Steve Ballmer as the CEO of Microsoft in February this year.
India has emerged as the fastest growing market for Microsoft Corporation globally in the area of cloud technologies and services, with CEO Satya Nadella stating that the country could leapfrog into this realm during the Windows Azure conference in Bangalore. Bhaskar Pramanik, chairman, Microsoft India, in an interaction with PP Thimmaya says the company has been adding over 2,000 commercial cloud customers every month in the country and future prospects are indeed looking bright. Edited excerpts:
Will small and medium businesses benefit from cloud technologies
Cloud makes it possible for us to support SMBs. There are 40-million-odd small businesses in the country. For them this the best thing to have happened. Now technology is affordable as you are paying by usage. Earlier, they never had the affordability or ability to manage technology infrastructure. Today, with cloud and other apps, social, mobility, analytics enable SMBs to access to same technologies as large corporations. This segment also is a huge opportunity for us as it accounts for 15-18% of our overall revenue and it is growing faster than all the other businesses.
Has Microsoft adopted a competitive pricing strategy for cloud products
There is no price differentiation. Customers are primarily looking for value and we are a safe choice. Microsoft is the only one which offers three types of cloud technologies private, public and hybrid. Secondly, our is totally an open environment and the third thing is the scale. We have far bigger scale than of the some other providers as there are 1 million servers across the world, most of the data centres are certified. There are a lot of things that makes us unique to the enterprise, that is why we are a safe choice.
How important is the aspect of security for Microsoft
We have always taken security much more seriously than anybody else. We were the largest supplier of IT, products and solutions, security is inbuilt into everything we do. Ten years ago, Bill Gates started the concept of trustworthy computing, which has percolated into everything we do in terms of design, engineering, development of our products and how these are deployed. We have strong ties with security agencies in every country we operate. Security is something which is inherent, nobody else can match that. It is part of our overall set of offerings.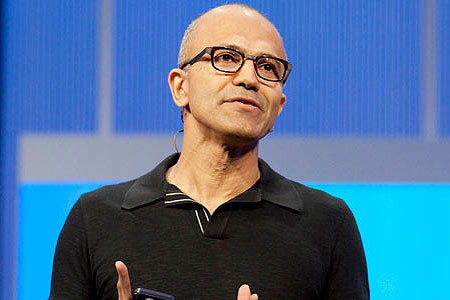 Has Microsoft CEO Satya Nadella got a separate mandate for India
He has not defined a special mandate for India. I have interacted with him a number of times over the last three years. I think how he looks at India is similar to how Bill Gates and Steve Ballmer looked at it. Number one there is a huge developer community, secondly it is a hotbed of innovation and lastly the frugal way of doing IT. These are enabling us to create solutions that are truly meant for emerging markets. I think Nadellas goals for India is no different from Steve Ballmer, just because a Indian becomes CEO, things dont change. Indira Nooyi, is the CEO of Pepsi, but she does not have a separate plan for India. She has a global plan and India is strategic to Pepsi. It is the same for us.
Is Microsoft an enterprise or consumer company
Our vision has always to be enable and empower every individual and business in the world. Therefore we cannot be consumer or enterprise company. We have to be both. We impact one billion users every today and we empower every single user in the enterprise,
How is the Windows mobile phone operating system doing in India
We have been reasonably successful in India as the number two operating system. Our growth rates are really good. Further, some of the local Indian companies have the realised the opportunity for Windows phone and have taken the OS. If an upwardly mobile individual looking for a device which suits work and play, Windows OS is the best phone. It is enterprise ready and consumer friendly. Our strategy has always been to work with as many OEMs as possible.
Also check:
Check update: BSE Sensex
* Check car prices: All Models