Samsung Mobile India is betting big on its propriety smartphone operating system (OS), Bada. Its been close to 10 months since the company introduced Bada and it is coming up with an upgraded version of this OS called Bada 2.0 around July this year, which will improve its features like having an interactive user interface and more convenience for developers to develop applications for it. We currently have a market share of 10-15% in the smartphone segment in India, and with Bada, we are targeting about a share of 30% in this segment this calendar year, said Dipesh Shah, R&D head, Samsung Mobile. Bada, meaning ocean in Korean, is a driving force in accomplishing Samsungs vision of a smartphone for everyone, said Shah.
Till now, Samsung Mobile has about five models on Bada, which range between R8,800 to R20,900. Symbian is the most widely used OS with a market share of about 37%, followed by Android with a 22% share. According to Gartner, smartphone sales to end users were up 72.1% from 2009 and accounted for 19% of the total mobile communications device sales in 2010 which stood at 1.6 billion. Samsung Mobile sold close to one million Bada devices in the third quarter of 2010, and 6.6 million Android phones, making Samsung the top Android seller.
In India, the company sells the same number of Bada devices as it does for Android and denied sharing any numbers on it. We have seen a good traction for Bada devices in India. I see the launch of this OS as a powerful opportunity for developers in India, said Shah.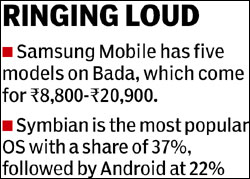 The R&D centre at Bangalore, which is the biggest outside Korea, has close to around 2,000 engineers working on this platform and developing applications for it. Samsung Mobile has 14 R&D centres in total. About 30% of Bada applications are developed out of this R&D centre in India. It is the only smartphone OS that works on a single processor. In future we will have more devices on Bada, he added.
Explaining how Bada is different from other OS, Shah said that this OS offers a feature-rich, open platform which provides an easy, simple, and intuitive user interface without compromising efficiency, it is developer-friendly which enables developers to implement various services without additional effort. Also, flexibility of the Bada platform makes it applicable to a wide range of devices than any other mobile operating system, he added.