Salman Khan seen wielding the broom and contributing to the Prime Minister's clean India initiative. (Twitter)
Prime Minister Narendra Modi today appreciated Salman Khan for wielding the broom, saying the Bollywood star's cleanliness initiative will "inspire" several people to join government's ambitious Swachh Bharat Mission.
"The effort by @BeingSalmanKhan is a significant one that will inspire several people to join Swachh Bharat Mission. #MyCleanIndia," the Prime Minister wrote on micro-blogging website Twitter after Khan posted photos of his cleanliness drive on Facebook.
Modi retweeted Khan's Facebook post with the photos of the star holding the broom and contributing to the Prime Minister's clean India initiative.
"I once again thank @NarendraModi for taking up the Swachh Bharat initiative and nominating me," Khan had tweeted.
Starting his cleanliness challenge in Karjat in Mumbai yesterday, Khan nominated nine prominent personalities including Jammu and Kashmir Chief Minister Omar Abdullah, Tamil superstar Rajinikanth and Bollywood star Aamir Khan to join the campaign.
"I started with Karjat yesterday. Yeh Dekho photos," reads his message on Facebook.
"I nominate the following for Swachh Bharat campaign and request them to further nominate nine more people. First, I nominate my fans on Facebook and followers on Twitter.
"Each one of us can make a difference. And I nominate Aamir Khan, Azim Premji, Chanda Kochhar, Omar Abdullah, Pradeep Dhoot, Rajat Sharma, Rajinikanth & Vineet Jain," it said.
Launching the Clean India initiative on October 2, the Prime Minister had roped in nine celebrities including cricket icon Sachin Tendulkar, Congress leader Shashi Tharoor, industrialist Anil Ambani and several actors including Khan to spread awareness on cleanliness and make 'Swachh Bharat' a people's movement.
Apparently inspired by the 'ice bucket challenge' that had gone viral recently, net-savvy Modi had asked these people to nominate nine more people to join the campaign and hoped the chain would continue.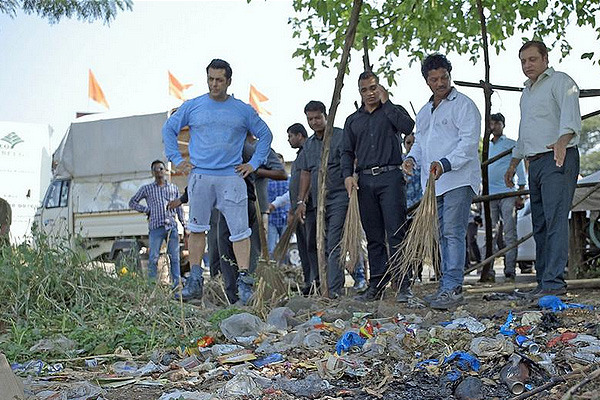 Meanwhile, the Prime Minister also shared a link of his special web page for Diwali wishes, on his Twitter handle.
"Many friends are sending Diwali wishes. My thanks to them. Do visit this specially created page http://diwaliwishes.narendramodi.in," Modi tweeted.
The Prime Minister will travel to flood-ravaged Kashmir Valley on Diwali tomorrow to be with those who suffered due to last month's deluge.
"Will be in Srinagar on Diwali, 23rd October and will spend the day with our sisters and brothers affected by the unfortunate flood," he tweeted.