State-owned Steel Authority of India (SAIL) on Thursday reported a 11.56% decline in its net profit to Rs 1,176.6 crore for the quarter ended June 30, 2010, due to high input costs and weak demand in the global market. Total sales during the period increased marginally to Rs 9,930.7 crore, up 1.83%, over the corresponding period last year.
Greater availability of steel globally coupled with pressure on demand made the market conditions quite testing for steel companies in the Q1, company chairman CS Verma stated. However, the newly-appointed chairman seemed bullish on domestic demand in the coming quarters. With signs of prices stability and demand picking up, we are optimistic about the ensuing quarters, he said. However, in July steel prices declined by 4-13% compared to March-April.
While price of input materials such as coal, ferro-alloys and nickel put an additional burden of Rs 556 crore on the steelmaker during April-June quarter, the company had to make additional provision of Rs 299 crore towards employee-related benefits.
SAIL has managed to partially neutralise the adverse impact of high material cost by ensuring higher production of value-added steel. The company produced 1.18 million tonne of value-added steel during the April-June quarter registering 3% increase over the corresponding period last year. The steel-maker has earmarked Rs 12,254 crore in the current fiscal for modernisation and expansion of its plants.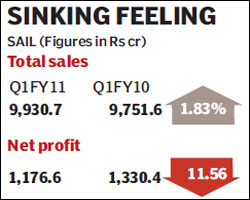 "In the coming quarter, SAIL would firm up the modalities of strategic alliance with Posco for finex process plant at Bokaro," the company said. SAIL has decided to increase its annual production capacity to 23.5 million tonne by 2013 with an investment of Rs 70,000 crore.
The steel manufacturer plans to mop up about Rs 16,000 crore via share sale.