The country's largest steel maker by volume, Steel Authority of India Ltd (SAIL), may reduce prices of flat steel products starting early November. The cut could be as high as Rs 500 per tonne or even more. "There is a need to correct the prices of flat products. The decision on the extent of cut would be taken in a day or two," said SAIL chairman SK Roongta. He indicated that the cut could be to the tune of Rs 500 or more. Domestic firms, including SAIL, had hiked steel prices in August and September by Rs 1,500 per tonne. Flat products include steel plates and sheets that are used in automobiles, refrigerators and washing machines.
The net profit of the PSU in the second quarter touched Rs 1,663 crore, down 17% compared to the corresponding period last year, when it registered a PAT of Rs 2,009 crore. The company's gross sales for the quarter stood at Rs 10,730 crore, around 21% lower than the sales figure of the corresponding quarter in the previous year, which stood at Rs 13,544 crore. The adverse impact on sales and net profit of the company was due to a sharp drop in year-on-year steel prices and lower price realisation. The suffering on this account was pegged at Rs 3,000 crore by the company. Escalation in input cost, including rail freight, imposition of ad valorem, royalty on minerals, fuel surcharge and higher interest charges also hurt the turnover.
However, when compared to the performance of the largest private steel maker, Tata Steel, SAIL has fared reasonably well. The lower prices had taken a toll on Tata Steel, whose net profit halved to Rs 903 crore for this quarter ended September 30, compared to the same period a year before, when it had posted a net profit of Rs 1,788 crore. Weak overseas demand also contributed to the dip in Tata Steel's profits.
SAIL's better performance was attributed by the company executives to management initiatives, which contributed about Rs 700 crore. The magnification of adverse impact was further offset through internal initiatives that led to 14% increase in sales volume, 15% increase in value-added steel production, major improvement in coke rate, total energy consumption and financial management. Low wear and tear cost saved another Rs 1,000 crore in the quarter.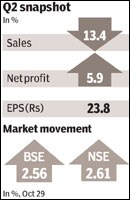 The PSU chief also projected that the demand would grow substantially in the third quarter, and in all likelihood touch 11-12%. "While the overall demand growth for steel products in the country is encouraging, SAIL will continue its rigorous efforts in achieving higher all-round cost efficiencies, better techno-economic parameters, improved productivity and thrust on value-added products," said Roongta.