Problems in land acquisition seems to have marred the development prospects of Nanocity, the much-hyped project of hotmail man Sabeer Bhatia.
Nanocity had to come up over 11,000 acre covering 23 villages at Raipur Rani near Panchkula in Haryana. The project still remains a distant dream even four years after it was announced. Moreover, the nodal agencyHaryana State Industrial and Infrastructure Development Corporation (HSIIDC)has issued notice to the developers to submit the final plans by end of November and acquire atleast 500 acres for the project.
Sources in HSIIDC informed FE that in the annual general meeting held last week the developers were asked to curtail the size of the project from the proposed 11,000 acre to about 2,000 acre. The land size has to be within feasible limits so that the project can be developed well. So far we have no information on land acquisition done by the developer. Also we have given them time till November end to submit the revised plans, said a senior HSIIDC official.
On the other hand the developers say that Sabeer will soon be coming to India to discuss the plans of the project and only after that any decision will be taken.
Naval Bhatia (Sabeer's brother), managing director of the SPV floated for the projectNano City haryana infrastructure maintained that acquiring land is a big problem. Land cannot be acquired in contiguity and verifying title deeds takes a lot of time as the same land is registered under many names, said Bhatia. Also high land prices demanded by the farmers prove to be an obstacle in land acquisition process.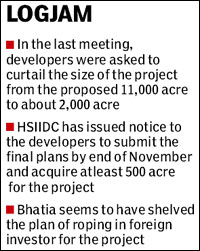 Few months ago, the developers were also thinking of roping in a foreign investor for the project but now the plan seems to have been shelved. However in July 2008 the promoters of nano city had offloaded 38% equity stake to Parsvnath Developers that had planned to invest Rs 400 crore as equity and debt in the project.
On the land acquisition front HSIIDC official said, The promoters had approached the corporation for acquisition of land earlier due to some difficulties in acquiring the land. But we will only acquire the land in case it is not contiguous. The promoters have to acquire the major chunk first and then they can approach us for contiguity of land as per the land acquisition policy of the state.