Nano City, the much touted project of hotmail founder Sabeer Bhatia, is likely to be curtailed to one-fifth the original size if the project takes off. Nano Cityproposed to be developed in Panchkula district, Haryanawas to come up over 11,000 acre but now its size is to be around 2,000 acre.
Though the MoU for the project was signed in June 2006 under public private partnership between Sabeer Bhatia group and Haryana State Industrial and Infrastructure Development Corporation (HSIIDC), the developer has failed to acquire any land till date.
Sources in HSIIDC informed FE that internal meetings are going on and the developer has been given time till the end of November to submit the final project reports and begin acquiring land. There has been no communication yet from the developer's side relating to this but the fate of the project will be decided within a fortnight, said an HSIIDC official.
HSIIDC had asked the developer to curtail the project size in its annual general meeting as the project was not found to be feasible for development over such huge land size. The developer was facing problems in acquiring land due to the high prices demanded by the farmers of that region. Moreover title deeds of the land could not be verified properly as same land was registered under various names. However HSIIDC will only acquire land for the developer for contiguity purpose. The promoters have to acquire the major chunk first and then they can approach HSIIDC for contiguity of land as per the land acquisition policy of the state. On the other hand the developer is busy chalking out the final plans to save the project from being scrapped. Naval Bhatia (Sabeer's brother), managing director of the SPV floated for the project- nano city haryana infrastructure is keen on moving ahead with the project.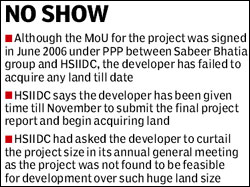 The development prospects of project were marred when the promoters failed to pursue the farmers to give away land at prices lower than what they demanded. Moreover to induce fresh equity into the project the Sabeer Bhatia group also mulled over roping in a foreign investor for the project. But as per information available the deal has not materialised yet. Also in July 2008 the promoters of nano city had offloaded 38% equity stake to Parsvnath Developers that had planned to invest Rs 400 crore as equity and debt in the project.