With no signs of a respite in oil prices and given India?s growth, a serious attempt is being made to push for energy sources. Agreements relating to energy, oil, gas fields are expected to be be signed during the forthcoming visit of the Russian President Dmitry Medvedev next week.
Sources told FE, ?India has been expressing interest in increasing its participation in the development of Russia?s vast oil and gas reserves. Public sector company ONGC Videsh has shown interest in partnering with Russian oil and gas majors like Gazprom and Rosneft to invest in different regions of Siberia and even North Russia. The regions of interest are Sakhalin-III in Siberia and the Timan-Pechora Basin in northern Russia, as well as the Yamal peninsula, a gas-rich area in Northwest Siberia.?
When President Dmitry Medvedev arrives on Tuesday next week to attend the annual India-Russia summit, ?An agreement between the two sides over the Timan-Pechora Basin as well as an agreement of cooperation in gas fields and gas processing in Bashkortostan will be inked.?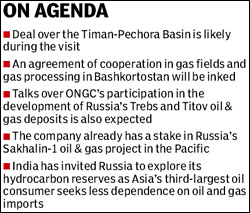 According to sources the talks with a view to ONGC?s participation in development of the Trebs and Titov oil and gas fields in northwest Russia and deposits on the Arctic peninsula of Yamal are also expected to fructify in an agreement between the two sides next week.
India?s state-run oil company ONGC has been holding talks to participate in the development of Russia?s Trebs and Titov oil and gas deposits.
Earlier this month, at an auction in Russia for the right to develop the huge Trebs and Titov deposits in the oil-rich Timan-Pechora province was won by Russia?s Bashneft oil company. Other bidders, including ONGC, were not allowed to participate in the sale due to procedural violations in presenting their bid proposals. Mid-size oil firm Bashneft, owned by Sistema, has won the right to develop the fields, which hold an estimated 200 million tonnes of oil reserves, earlier this month after being left as the only contender in a government auction.
The Trebs and Titov fields are among the most promising in the Timan-Pechora northern province with C1 reserves estimated at 78.9 million tonne (578 million barrel) and 63.4 million tonne (465 million barrel) of oil respectively.
ONGC already has a stake in Russia?s Sakhalin-1 oil and gas project in the Pacific, and in 2008 it acquired small-sized Imperial Energy oil company in Western Siberia.
India has invited Russia to explore its hydrocarbon reserves as Asia?s third-largest oil consumer seeks less dependence on oil and gas imports and looks to attract more investment in its energy sector.
In 1999, India launched its New Exploration and Licensing Policy (Nelp), offering better terms for contractors. India imports over two-third of its crude oil needs and is keen to reduce its dependence on overseas purchases.
In 2009, Russia had hosted the heads of foreign energy majors in Yamal seeking ?stable and long-term? partners to help develop a region with enough gas in the ground to satisfy world demand for five years.