The government has asked public sector banks to issue RuPay debit card for every new bank account.
Visa and Mastercard are going to get a tough rival. RuPay, Indias own payment system floated by National Payment Corporation of India (NPCI), is likely to get a big leg-up with the governments ambitious financial inclusion set for a launch later this month.
The government has asked public sector banks to issue RuPay debit card for every new bank account and Rs 5,000 overdraft facility under its financial inclusion plan. We expect our card base will rise from around 24 million to 100 million in the next two years, said AP Hota, managing director and CEO of NPCI. However, it is going to be tough challenge to get new account holders use the RuPay credit card, especially in the rural areas.
We need to undertake major financial literacy and education to make it a success. In rural areas, people may keep the Rupay card after opening the bank account. We should educate them to use the card, Hota told The Indian Express.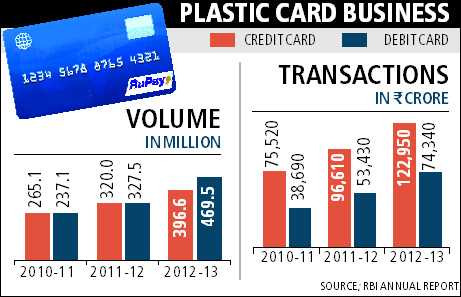 The plan being prepared for the Indian Banks Association (IBA) says two adults (husband and wife) in every household would be provided bank accounts with an overdraft facility of Rs 5,000 as well as a RuPay debit card with a personal accident insurance cover of Rs 1 lakh.
The finance ministry had told the IBA to prepare an immediate time-bound action plan under which about 12 crore accounts in rural areas and 3 crore in urban areas would be opened and about 50,000 new Business Correspondents would be engaged in rural areas.
RuPay card will be issued under the financial inclusion plan. Otherwise, there is no other directive from the government to banks that they can issue only RuPay cards in normal operations. We will continue to compete with them (Visa and Mastercard) in India, Hota said.
The card base is growing at the rate of 2.5 million per month, Hota added.
Bharatiya Mahila Bank has joined the National Financial Switch (NFS) ATM network as the 83rd member by issuing RuPays chip-based debit cards.
According to the RBI, there were 396.6 million cardit cards and 469.5 million debit cards in India accounting for trsansactions worth Rs 1,22,950 crore and Rs 74,340 crore respectively in FY13. The payment system business is now dominated by Visa and MasterCard.
Hota says Indian banks will have lower costs as all RuPay transactions are settled within the country. The need for an Indian payment system arises from two major considerations the high cost borne by the Indian banks for affiliation with international card associations (such as Visa and Mastercard) in the absence of a domestic price setter. The connection with the international card associations results in routing even domestic transactions, which account for more than 90 per cent of the total, through a switch located outside the country. Many countries have their own payments systems on the lines of RuPay.
Currently, though PSU banks have embraced RuPay, private banks are yet to take notice of RuPay seriously as none of the leaders in the segment have joined the RuPay network. This may be due to the long-duration contracts with foreign payment companies. Once they contracts get over, they may look at RuPay, Hota said.