Just ahead of Christmas, natural rubber prices have jumped to a new record of Rs 207 per kg this week, breaking the past record of Rs 206 touched in mid-November just ahead of Christmas. Trade sources said the usual price rally ahead of Christmas, during the last week of December, termed as Santa Claus rally in trade circles, could push rubber prices in India to even Rs 220 per kg as demand is far more than supplies even during the peak tapping season.
Going by the current demand-supply position, the price could zoom even to Rs 220 per kg in the Santa Claus rally, sources told FE.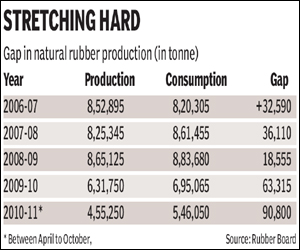 Although there was keen buying interest, anticipating that pre-Christmas liquidity pressure of farmers would ease more sheets to the market, less than 500 tonne had changed hands at Kochi and Kottayam bourses.
Tapping of rubber was slowly coming back to normal following cessation of rains. Close on the heels of automobile sales boom, tyre demand has taken off, because of capacity addition by major tyre manufacturers. As a result of which natural rubber consumption rose by 3% (from 5,20,375 tonne to 5,36,100 tonne) in April-October, production in the same period, fell by 9.4% (from 4,80,230 tonne to 4,35,125 tonne), while imports were up by 133% in April-October, statistics provided by the Rubber Board show.
The incredible 20% import duty factor is harsh on tyre company bottom lines. This amounts to atleast Rs 40 per kg, says Rajiv Budhraja, Director General, ATMA (Automotive Tyre Manufacturers Association).
According to the Association of Natural Rubber Producing Countries (ANRPC), top seven rubber-producers, who supply 93% of worlds rubber supplies, have reported lower production this year. On Monday, rubber prices in Tocom too rose to 12 yen-per kg, in a single day.
For India, the only way to face rubber shortage will be to ramp up production by replanting old and ailing trees and by improving skilled tapper manpower.
Rubber Board has embarked on a intensive tapper training programme to meet the labour requirements for the next year.