The boards of Reliance Communications (RComm), its subsidiary Reliance Infratel (Rinfratel), and GTL Infrastructure on Sunday in-principle approved a Rs 50,000-crore ($11 billion) deal to create the worlds largest independent telecom infrastructure company, neither owned nor controlled by any telecom operator. Under the deal, RComm will merge Rinfratel with GTL infrastructure, a move that would infuse significant cash into the Anil Ambani firm and help it cut down its huge debt of Rs 33,000 crore by more than half. Before the merger, RComm had a 95% stake in Rinfratel.
The merged entity will have over 80,000 towers and over 1,25,000 tenancies from over 10 telecom operators such as RComm, Aircel, Etisalat DB Telecom, MTS, Uninor Telecom, Videocon Mobile, Tata Teleservices, Vodafone and S Tel. The entity is expected to see an additional 75,000 tenancies coming in from leading players, owing to the impending launch of 3G and broadband wireless access (BWA) in India. However, Rinfratels optic fibre network of over 200,000 kms and related assets will remain under RComms ownership, a company statement said.
Sources said the merger deal between Rinfratel and GTL Infrastructure could bring down RComms liability by around Rs 18,000 crore (around $4 billion) through a mix of cash and stock options, possibly with a combination of about $1.5 billion (around Rs 6,750 crore) in cash. Considering GTL would take up the operational control, it is quite possible that it could take up the debt liability already existing on Rinfratel which was around Rs 15,000 crore as of March 31, 2009, according to the DRHP filed by the company in September 2009.
At the same time, RComm would pass on the expenses incurred by it on the tower company which were around Rs 1,500 crore and depreciation of about Rs 3,400 crore in March 2009. Talks of Anil Ambani holding a strategic stake of about 26-33% in the merged entity are doing the rounds. Investment bankers said this could possibly be worked out over the next 45-60 days.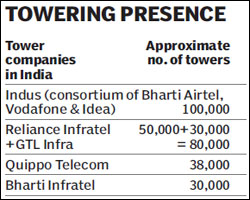 However, the deal is expected to further stretch GTL Infra's balance sheet. GTL Infra had recently bought 17,500 towers for Rs 8,400 crore from Aircel. GTL Infra already has a debt of about Rs 4,470 crore at the end of March 2010, with a debt to equity ratio of about 2.3. An additional investment in Rinfratel would mean GTL would need participation from external financial investors.
RComm has earlier said it was looking at a stake sale of about 26% in the company, which is expected to be pursued at a faster pace now. Post this stake sale, RComm is expected to go almost debt free as it is expecting about Rs 11,000-12,000 crore from the sale.
Investment bankers to GTL said that financing the deal will not be difficult as the combined entity would have a cash flow of around Rs 3,000-4,000 crore per year. Already Standard Chartered and public sector banks like SBI have been lined up to invest into the deal. Also, over two million shareholders of RComm and the minority shareholders of Rinfratel will be receiving free listed shares of the merged entity, RComm said. However, details of the quantum of cash infusion to RComm, and the share swap ratios for RComm and Rinfratel minority shareholders will be finalised in due course with the help of independent valuers and advisors, the company said. According to analysts, the likely share swap ratio will be 1:2 or 1:3, wherein for every RComm shares, shareholder will receive two or three shares, as finalised, of the merged company.
The proposed transaction is subject to receipt of all necessary approvals, customary due diligence, definitive documentation, etc. It is anticipated that, barring unforeseen circumstances, the transaction will achieve final closing over the next six months. RComm, as the largest tenant of the merged entity, will be adequately protected through appropriate contractual arrangements.
Standard Chartered Bank acted as the financial advisor to GTL Infra for this transaction.
The deal sees value for both the companies. Having RComm as the major tenant will bring in a lot of synergy for the merged entity. GTL is funding the deal partly by cash and equity. Clarity on the share-swap ratios will take another 45-60 days. By the end of this financial year, the merged entity will have a combined tenancy ratio of 2, said a banker with a multinational bank, on condition of anonymity.
According to a draft red herring prospectus filed by Reliance Infratel in September, the company has total debt of at least Rs 15,000 crore. Reliance Infratel had planned an initial public offering (IPO) of shares as long ago as in February 2008, but the public issue is yet to hit the market. The interests of RComm as Infratel's continuing largest tenant will be protected through appropriate contractual arrangements. The deal is expected to lead to a debt reduction to the tune of 50% for the company. RComm and GTL shares closed at Rs 192.5 and Rs 45.35, up 2.34% and 5.83% respectively, on the BSE on Friday.