It is a truism that the monsoon remains critical to the countrys agricultural output. However, successive years of bumper rice and wheat production leading to huge stocks, an improvement in irrigation facilities and a thrust on horticultural crops mean that in the event of deficient rainfall, the impact on grain supplies will be moderate.
As of June 1, the Food Corporation of India (FCI) held an all-time record of over 82 million tonnes (mt) of grain (mostly rice and wheat). This is well over the combined buffer stock and strategic reserve norms of 31.9 mt.
The monsoon rain does impacts agricultural activities, particularly in the rain-fed regions of the country. But with huge stocks of foodgrains at the governments disposal, the impact on supplies would be minimal, said PK Joshi, director (South Asia), International Food Policy Research Institute.
This was borne out in 2009-10, when the monsoon rainfall was 21.8% below normal between June and September, leading to drought-like conditions in many parts of the country. Rice production declined to 89 million tonnes (mt) from the previous year's record output of 99.18 mt. Yet this 10-mt drop in output did not disrupt supplies because of the government's massive stockpile of the grain.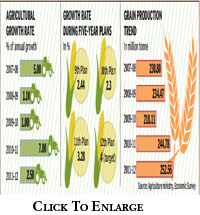 Another factor aiding the government was a better winter or rabi output.
The contribution of rabi crop in total foodgrains production has been rising steadily during last few years, Ramesh Chand, director, National Centre for Agricultural Economics and Policy Research said.
Rabi crops such as wheat and coarse cereals, maize, and oilseeds such as soyabean, groundnut and mustard, which contribute more than half of the total agricultural output, are grown mostly in irrigated regions such as Punjab, Haryana, western Uttar Pradesh and Madhya Pradesh. This is one reason that even during the rain-deficient 2009-10 season, wheat production did not decline.
States, too, have been pitching in. During 2009-10, the state governments particularly the states in northern and northeastern region initiated early sowing of rabi crops to better utilise the residual moisture in the soil.
"The use of available moisture resulted in saving of water which would have been otherwise required for sowing and thus reduced the stress on water requirement for rabi crops to that extent, a parliamentary committee on agriculture that looked into the aftermath of the deficient monsoon in 2009-10 observed.
Also making agriculture less dependent on monsoon is the government's thrust on increasing the production of horticultural crops such as fruits and vegetables, having spent more than Rs 5,840 crore under the National Horticulture Mission since 2005. So even in 2009-10, horticultural output rose to 223 mt from 214 mt in the previous year.
Farmers are gradually shifting to horticultural crops in many paddy-growing rain-fed regions of the country, an agriculture ministry official said.
This has pushed India's horticultural output to over 240 mt during 2010-11, meaning that India is now the second biggest producer of fruits and vegetables after China.