A Sluggish economic growth and the partial rollback of passenger fare increase, shortly after it was announced last March, weighed heavily on the performance of the national rail carrier, which made less money this fiscal than it had projected originally.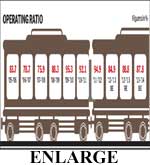 Railways really struggled to make some marginal improvement on its operating ratio the share of its spending over receipts that is considered as a benchmark for operational efficiency that has eased to 88.8% in the current fiscal from over 90% for four years in a row.
The operating ratio is expected to improve to 87.8% from the revised estimate of 88.8%. Consequently, we will close the year 2013-14 with a balance of R12,506 crore in the Railway Funds, railway minister Pawan Kumar Bansal told Parliament. He projected a 9% jump in freight earning target and a 5.2% jump in passenger traffic for the 2013-14 fiscal to collect a gross traffic receipt of R1,43,742 crore.
The government expects railways to join a club of carriers transporting more than 1 billion tonne of goods next fiscal. Freight is the main revenue stream for railways, which cross subsidises ordinary passenger fares.
Railways also got the benefit of a cut in the rate of 'dividend', or the interest on the long-term soft loan it gets from the Union government, to 4% from 5%, enabling a relief of R715 crore.
Bansal attempted to insulate the rail fare from changes in diesel price by introducing a variable component that would be adjusted twice a year. The first such change will be effected from April 1 only on freight tariff as passenger fares have been raised in January. This bold attempt will fetch R4,200 crore to the carrier, the minister told reporters after the budget was presented in Parliament.
The passenger fare revision effected last month is expected to raise R6,600 crore in 2013-14, although most of these gains will be offset by the increase in diesel price and electricity tariff. Bansal projected that a modest annual increase of 5 to 6% in the fares over a period of 10 years can provide about R1 lakh crore by way of additional resources.
The cash-strapped transporter wants to rely on public-private partnerships (PPP) for the much-needed investments.
An ambitious target of R1 lakh crore has been set to attract investments through PPP route during the 12th Five Year Plan, Bansal earlier told Parliament. For the next fiscal, investments of R63,363 crore are proposed, which will be financed, to a large extent, from government support (R26,000 crore).
Internal resources of R14,260 crore, market borrowings of R15,103 crore and public-private partnership investment of R6,000 crore are part of the projected investments meant for doubling of tracks, safety and passenger and staff welfare.
Railways will appropriate R4,163 crore to the newly created Debt Service Fund meant for loan servicing.
Bansal hopes to raise R4,200 crore a year from the proposed across-the-board 5.8 % hike in freight charges, and another R483 crore from raising passenger reservation and related charges.