The combined market capitalisation (m-cap) of the BSE small cap universe as a percentage of the total m-cap of the exchange has surged to a 3-and-a-half-year high in CY14.
The BSE Small-Caps m-cap has risen to R5.4 lakh crore or 6% of the total market cap of R90 lakh crore. The comparative m-cap percentage in CY13 stood at 4.9%. BSE Mid-Caps m-cap has risen to
R17.3 lakh crore or 19% from 18.3% in CY13. Sensexs share as a percentage of total market-cap, on the other hand, has decreased to 47% from 50% in CY13.
Experts said the trend depicts the increased willingness of investors to take risks. Over the last 5-6 years before September 2013, the tendency was just to focus on large-caps.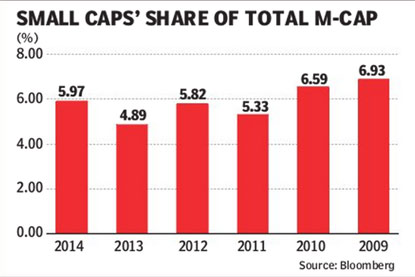 However, after Narendra Modi was named prime ministerial candidate of the BJP, the risk-appetite has improved. That is why we have seen a more broad-based rally, said Gaurav Mehta, vice-president, institutional equities at Ambit Capital.
Beaten down mid- and smallcap stocks have outperformed markets in CY14. While BSE Mid- and Small-Cap have gained 37.4% and 53%, respectively, Sensex has gained 20.9%. Small-cap stocks have given as much as 200% returns in YTD. Simplex Infrastructure (262.2%), Amtex Auti (248.4%), BEML (246.4%), PMC Fincorp (238%), HCL Infosystems (230.7%) and Ahmednagar Forge (222.4%) have been the major gainers in CY14.
Experts add that domestic flows have been driving up mid- and small-cap stocks. Mutual funds are seeing net inflows. Domestic institutional investors' (DIIs) selling has also abated. These set of investors typically look for opportunities in mid- and small-cap space, said Mehta.
Rikesh Parikh, vice-president at Motilal Oswal Financial Services said that retail money is moving into small- and mid-cap stocks.
Retail participation is showing signs of improvement as the daily average retail cash turnover in May rose to R11,854 crore, levels previously seen in CY10.