The governments plan to boost rice production in eastern India could go haywire if farmers are not compensated for the spike in cost of production of critical food grains witnessed during the last few years.
The Commission for Agricultural Costs and Prices (CACP) calculation says the cost of rice production labour, fertiliser, land rentals or other inputs has risen more than 53% between 2008-09 and 2011-12 while increase in Minimum Support Price (MSP) set by the government had been only about 20% in the period.
This has squeezed farmers margins in paddy cultivation and served a double blow to the farmer with the rising costs and declining margins even with respect to MSP. If they do not get even MSP, will they remain incentivized to produce more is an open question, CACP has stated in its latest report.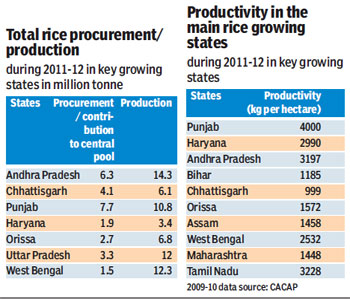 For the kharif season 2012-13, while the eastern states including West Bengal and Orissa had demanded a huge 52% hike in paddy MSP to Rs 1644 per quintal, CACP recommended a MSP of R1,250 per quintal, which is a hike of 16% from the previous year. This is the MSP for common variety of paddy.
The eastern regions, including Eastern Uttar Pradesh, Bihar, West Bengal and Orissa, during 2011-12 had produced more than 56 million tonne of rice against the countrys total production of 102.75 mt, a share of more than 54%. The government is aiming to increase rice production in this region to meet the rise in demand in coming years. But what is making matters worse is the lack of adequate procurement infrastructure with Food Corporation of India (FCI) and lower productivity in eastern region, leading to farmers not even being given MSP for paddy. The higher supplies due to bumper production during the recent years is also keeping the price low, leading to lower farm incomes.
Several farmers are forced to sell paddy at 20-30% below the MSP as there is no effective marketing support mechanism, Ashok Gulati, chairman, CACP told FE.
The wide variations in rice productivity is also pushing up the cost of production in eastern India. While Punjab and Andhra Pradesh have productivity of 4,000 kg and 3,197 kg per hectare, respectively, West Bengal and Orissa have productivity of 2,532 kg and 1,572 kg, respectively.
To augment the productivity in eastern zone, we need to push up investment in creating irrigation and marketing facilities," P K Joshi, South Asian director, International Food Policy Research Institute (IFPRI), said.
According to a CACP analysis, the labour costs across the country have increased 74% during 2008-2011. In states like Orissa, they have gone up 101%, in Maharashtra and Tamil Nadu by 93%, and in Andhra Pradesh and Karnataka by more than 85%. Fertiliser costs have gone up 30%, diesel oil prices went up by 44%, fodder prices increased by 60% and cattle feed prices by 45% during the same time frame.
The coverage of procurement operations for a crop like paddy is neither adequate nor effective. For other crops, the situation is even worse. It is given to understand that regions with poor market infrastructure are usually excluded from MSP operations by central agencies," CACP has noted.