In a move that would force cigarette-to-hotels conglomerate, ITC to either up the ante or throw in the towel, Reliance Industries (RIL) on Monday bought a 14.12% stake in EIH from the promoters for Rs 1,021 crore. Clearly, both the Kolkata-headquartered ITC, which has accumulated a 14.98 % in EIH over the years and RIL would try and pick up the 12% stake owned by LIC (6.36%), Analjit Singhs Pivet Finances (2.18%), GIC (1%) and HSBC (1%) among others.
Although ITC CEO Yogi Deveshwar has often reiterated that his firm would not launch a hostile takeover for the company, its possible, say corporate watchers, that this could turn out to be a fight for veto power in EIH. Of course, should both ITC and RIL pick up more than 15% in EIH, they would be compelled to make an open offer to minority shareholders. At Rs 184 per share which RIL has paid for the stake, EIH commands an equity valuation of approximately Rs 7,293 crore. Analysts point out that if ITC decides to walk away, its investment would fetch it a profit of around Rs 550 crore at EIHs current price of Rs 151 apiece, given the weighted average cost that it has incurred. Given that RIL clearly has more financial muscle, its possible, they say that ITC might give in.
Just last week, PRS Oberoi, chairman, EIH, had told the media on the sidelines of EIHs annual general meeting that EIH would have a succession plan in place in the next couple of years. I think about it all the time. I intend to do something appropriate maybe in a year or two, the chairman had observed. With Mondays event, it would appear that the Oberoi family which is unlikely sell anymore from the 32% stake it currently holds after the sale to RIL, may prefer to support RIL rather than ITC, which is a business rival.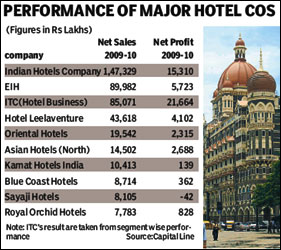 As evident from its recent acquisition of Infotel Broadband, RIL is clearly not about to miss out on the opportunity in the services space. Indeed, it would not be surprising at all, say, corporate watchers, if RIL makes a pitch for ITC by picking up the 11.9% stake in ITC held by SUUTI (Specified Undertaking of the Unit Trust of India).
ITC too runs a chain of hotels and the business reported revenues of Rs 851 crore in the year to March 2010. Moreover, the rural retail chain eChoupaltogether with ITCs FMCG and foods business, they point out, would fit in beautifully with RILs retail ambitions.
The EIH stock which surged 11.5% on Monday to close at Rs 150.70, even though news of RILs buying a stake came in after market hours, commands a market capitalisation of Rs 5,921 crore. RILs press release which states that its investment in EIH has been made as the Oberoi family had developed the Oberoi Hotels brand into a premier international brand in the luxury hospitality sector and as a result EIH has excellent future prospects, indicates that the oil and gas major likes the business. PRS Oberoi, chairman of EIH, said: RIL desired to make a long-term financial investment in the luxury hospitality and we were happy to encourage their investment in EIH. There is no change to the control, management or operation of EIH.
It may be recalled that last year, the Oberois were in talks with Analjit Singh to sell a little over 17 % stake in EIH to the latter, though the deal didnt go through after which Analjit Singh, who held 9% in EIH, has been selling his stake. RIL picked up the 14.12% stake in EIH from Oberoi Hotels Pvt Ltd, Aravali Polymers Pvt Ltd and Prithvi Raj Singh Oberoi, who sold 5.54 crore shares, through its wholly-owned subsidiary Reliance Industries Investment and Holding.