Despite repeated calls by the Centre, states are not keen to allow open access in transmission and distribution (T&D). Karnataka, Tamil Nadu and Rajasthan had recently invoked the emergency power under Section 11 to deny open access. The states are now anxiously awaiting a judgement of the Karnataka High Court on their power to restrain open access in transmission and distribution.
The power ministry at its meeting with states on November 15 reiterated that states must cooperate in providing open access in transmission and distribution. However, states have argued that it is not possible as they need to worry about deficit and accordingly take necessary measures including bringing in Section 11 into effect. Ironically, the power ministry may not press for amending the Electricity Act, 2003 to curb states exercising powers under Section 11.
Power ministry official told FE, "The Electricity Act, 2003 mandates non-discriminatory open access for inter-state as well as intra-state transmission and distribution system. Even though open access in inter-state transmission is already operational, open access in intra-state transmission and distribution is yet to be operationalised. So far 23 state electricity regulatory commissions (SERCs) have issued open access regulations. Only some cases of open access to captive power plants have been implemented."
The official admitted that the cumulative effect of various charges make the open access for consumer economically unviable.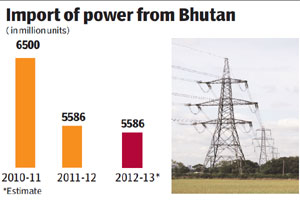 However, the official said state load despatch centres (SLDCs) are not permitting open access on the pretext of system congestion. Besides, lack of adequate metering, billing, settlement system and arrangement for standby charges make open access non-feasible.
The power ministry has emphasised the need for ring fencing of SLDCs for functional and financial independence. Further, the ministry has called upon states to reduce cross subsidy surcharge, minimum demand charge and setting up the settlement systems to encourage open access.
D Radhakrishnan, an analyst said that the section 11 was basically incorporated to allow state governments power plant in case of shut down and not for open access. Basically power market is governed on the basis of scheduling mechanism and not restraining the supply mechanism. In the eyes of Electricity Act 2003, all licensees including trading licensees are at par and restraining any of the trading licensees by arm twisting methods would be detrimental for the growth of the electricity sector.