Driven by higher volumes and margins in its refining business, Reliance Industries (RIL), Indias largest private sector company by market capitalisation, posted a 32% increase in its net profit at Rs 4,851 crore in the first quarter of 2010-11, compared to Rs 3,666 crore in the corresponding quarter last year. Refining business, which contributes the bulk of RILs revenues, benefited from higher gross refining margins (GRMs) at $7.3 per barrel, up from $6.7 in Q1 of 2009-10.
Alok Agarwal, CFO, attributed RILs higher margins to the ability of its Jamnagar refinery to adapt output in sync with increasing spread in prices of different types of crude.
Without spelling out a specific guidance on refining margins, Agarwal said: We expect the next three quarters to have similar margins as we are seeing now, if not better.
Mukesh Ambani, chairman and MD of RIL said: We have yet another record quarter due to high operating rates and improving margins across all our businesses. RIL embarked on two major initiatives to create incremental value. We have entered into joint ventures in shale gas to internationalise and diversify our upstream portfolio. He said RIL has committed itself to participate in the high-growth area of broadband wireless. Both these initiatives are in line with the strategy to identify and invest in new, value-creating businesses, he added.
RIL posted its highest quarterly revenues, up 88% to Rs 61,007 crore from Rs 32,441 crore in Q1 of 2009-10. This includes the financials of Reliance Petroleum, which was merged into RIL in that quarter.
The results were announced after the markets closed. Earlier, RIL shares closed flat at Rs 1,053.50 on the Bombay Stock Exchange.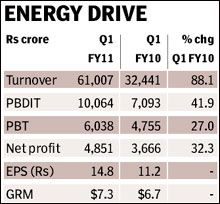 Arvind Mahajan, executive director at KPMG Advisory Services observed: Revenue growth is driven mainly by RIL's refining margins and gas from KG blocks. The company will show positive results in the ensuing quarters once shale gas opens up.
In Q1, RIL bought $1.7 billion of shale gas assets in Pennsylvania from Atlas Energy and agreed to pay $1.3 billion for a stake in a shale venture led by Pioneer Natural Resources.
RIL has also stepped up acquisitions since Mukesh and younger brother Anil Ambani, chairman of ADAG agreed in May to end some of their differences and scrap a non-compete agreement. The brothers pledged to work harmoniously after the Supreme Court ordered them to rework a gas-supply agreement.
In June, RIL acquired Infotel Broadband, which won licences to provide wireless services across India. Mukesh told shareholders at RIL's AGM last month that RIL is planning large investments in power, including nuclear and solar energy.
The RIL refinery processed 16.9 million tonnes of crude in Q1 at a utilisation rate of 109%, compared to the other major refining regions where the utilisation rate was just around 80%.
Revenues at RIL's oil and gas production business grew 150% to Rs 4,665 crore. The company produced 700 billion cubic feet of gas and 7.5 million barrels of oil during the quarter.
One of the dampeners in RIL's performance, however, was the petrochemicals business, where RIL had two planned shutdowns, of 14 days and 44 days at its Hazira and Nagothane plants respectively. Margins in this business also dropped steeply, from 18% in Q1 of FY2010 to 14.8% in the quarter under review.
The main reason for this, explained Agarwal, was the squeeze in margins of polypropylene. Polyester, however, had the best margins in six quarters of operations. Revenues from the petrochemicals segment grew 18.8 % to Rs 11,707 crore in the quarter under review, from Rs 13,903 crore in Q1 of FY2010.