Improved market conditions and better end-buyer sentiments are finally ensuring a hiring spree for top builders across metros. Real estate players have started hiring across-the-board, from top-level executives, including, CEOs and COOs to middle-level executives in execution and sales departments.
However, pay packages have not reached the peak levels of 2008 yet. Industry experts say the blood bath that the real estate industry witnessed during the slowdown has made employers more cautious and salaries are likely to remain 30-35% lower than what those offered at the peak of growth last year. LS Vaidyanathan, executive director, Nitesh Estates, says, Pay packages at present are about 85% of the 2008 peak level. It dropped by about 35% during Q3 and Q4 of FY 09 due to the slowdown.
However, compared to that period, salaries have increased. We are hiring people with a hike of 25%, against the third and fourth quarter in the last fiscal. We have recently hired Ashwini Kumar as COO at Nitesh Estates, he adds.
The Lodha Group has hired 30 to 40 people every month for the past seven months in sales and marketing, the people coming from firms like IBM and McKinsey. Since Lodha is a technologically advanced company, we believe in hiring people to handle challenges. As for pay packages, we are at par with the best in the industry and hike pay packages by almost 25% to 30% based on performances, said Abhisheck Lodha, director, Lodha Group.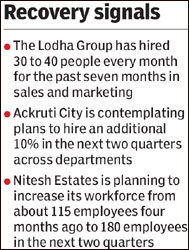 The real estate revival story in India is being driven by the residential segment, with real estate consultants saying the investors, not just developers, are driving the current demand. Real estate players have also started ramping up their projects and hence, are looking out for capable candidates to handle these operations. While Bangalore-based Nitesh Estates is planning to increase its work force from about 115 employees four months ago to 180 employees in the next two quarters, Ackruti City, which has witnessed an increase in the sale of affordable apartments, is contemplating plans to hire an additional 10% in the next two quarters across departments like engineering, sales and architecture.
According to Hemant Shah, chairman, Ackruti City, The hiring will take place mainly from the real estate sector. We had seen 15% of our entire workforce leaving our organisation during Q3 and Q4 of the financial year 2008-09.
A few firms, while talking to FE , said, September saw a turnaround and positions kept on hold have started opening up. However, the companies are still cautious in offering very high salaries. Shiv Agrawal, CEO, ABC Consultant said, Action on the hiring front is evident in the real estate sector for the past couple of months. However, companies are still cautious on hiring and job seekers are also apprehensive on moving back in the real estate sector immediately, owing to the downturn that the industry witnessed. Also, the salaries will not be the same as before the slowdown. In fact, it is likely to fall significantly across the board. At the top level, pay packages are expected to dip by about 30-35% of what they were earlier.
During the third and the fourth quarter of 2008-09, when the economy was reeling, we had stopped hiring people and the attrition rate was less than 10%. But now, since Nitesh Estates is coming up with six new residential projects across Goa, Bangalore south, Bangalore north and Kochi, it becomes imperative to have a larger workforce in the execution and sales departments, Vaidyanathan said.
Along with sales and marketing executives, top level positions like those of CEO, MD and vice-president are opening up with salaries over Rs 1-2 crore.
Along with real estate, salaries in sectors like IT, BPO, financial services, investment and corporate banking also took a beating during the slowdown. Media firms and retail sector companies were being cautious on hiring and offering high salaries. Many companies had also kept their top level positions on hold. Pranab Dutta, vice-chairman and managing director, Knight Frank says, The real estate sector has just been out of a sharp slump, in which developers suspended recruitments apart from shedding employees. Moreover, residential real estate activity has picked up and there would be an increase in the number of volumes. As a result, affordable residential properties will see a turnaround very fast.