The Dubai financial crisis would largely bypass the Indian real estate sector for now. Only companies that have receivables from UAE-based buyers and under-developed projects in the emirate could be affected.
The industry looks confident. Most realty players FE spoke with said the crisis would only have a marginal impact on them, since their exposure to the Dubai market is relatively small. But some are worried that if the crisis lingers on, the overall weak sentiment could constrain the capacity of a few debt-ridden firms to roll over their loans.
Most real estate firms have been rolling over their debt since the global financial meltdown began last year. The countrys largest and second-largest real estate firms, DLF and Unitech, now have a net debt of about Rs 12,000 crore and Rs 6,659 crore, respectively, on their books.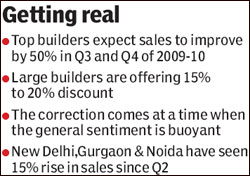 Says Anuj Puri, country-head at consultancy firm, Jones Lang LaSalle Meghraj, If the corporate debt default in Dubai turns into a sovereign default, there would be real economic issues, which may not only hit India but others also.
The underlying fear perhaps explains the performance of the realty scrips on the bourses. On Friday, realty stocks like HDIL, Omaxe, DLF, Parsvnath, Indiabulls Real and Unitech were down 2-2.5% while the BSE realty index plummeted 7% in the intra-day session. The index later recovered and ended down 0.6%.
For the record, both DLF and Unitech said they are insulated from the crisis as they have no exposure to the Dubai real estate market.
We have no Dubai exposure. Our projects with the Nakheel group and Limitless stand stalled. These projects never took off due to land acquisition problems there, so there is no impact, a DLF spokesperson said. The Indian property market is very robust and largely dominated by internal demand. So there will be no adverse impact on us, added DLF executive director Rajiv Talwar.
Unitechs MD Sanjay Chandra made a similar assertion, There is nothing much to worry about our company as we are completely insulated from the Dubai crisis.
Some analysts apprehend that the Dubai crisis may delay Emaar MGFs plan to list in India. Dubais largest realty player Emaar has suffered major losses because of the liquidity crunch. This may have a bearing on its Indian JV partner, Emaar MGF.
Emaar MGF, a joint venture between Indian realty company MGF and UAEs Emaar Properties, is among the many Indian property firms planning a listing. It has filed the draft red-herring prospectus with market regulator Sebi to raise about $830 million, about half the amount it had planned to raise in 2008 from an aborted IPO.
However, a company statement said, Our business and funding plans are on track.
Pranab Datta, vice-chairman & managing director, Knight Frank, feels real estate companies with unfinished projects should focus on completing their projects on schedule to avoid adverse consequences.
Delhi-based Omaxe, which has a presence in Dubai, is likely to exit its two real estate projects there. We will soon decide on exiting the Dubai realty projects. We had planned a Rs 2,850-crore investment in Dubai. We have already paid Rs 50 crore to Nakheel as the first installment and may seek a refund if we exit the Dubai project, chairman Rohtas Goel said. Omaxe, he added, was yet to receive land possession from Nakheel.
Dubai has borrowed a $80 billion in the last four years in a bid to transform itself into a global financial hub. But the property prices there slumped buy a half from their 2008 peak. Analysts had warned that Dubais real estate market was not sustainable in the long-term, since it was not driven by end-user demand.