Both retail and corporate borrowers can look forward to lower interest costs with banks likely to trim lending rates after the Reserve Bank of India (RBI) cut the repo rate by 25 bps and the cash reserve ratio (CRR) by 25 bps.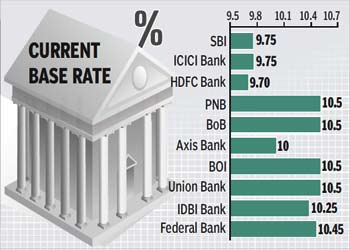 There will be monetary transmission, said HDFC Bank MD & CEO Aditya Puri. RBI governor D Subbarao said at a press conference that banks had assured the central bank that loan rates would be brought down through a cut in the base rate.
IDBI Bank was the first to swing into action, reducing its base rate by 25 bps to 10.25%. Later in the day, RBS too cut its base rate by 75 bps to 9%.
Banks have an urgency to increase their credit growth; so, they will be looking at all opportunities, either by reducing the base rate or some segments where they can lend better, said SBI chairman Pratip Chaudhuri. SBI's assets and liabilities committee (Alco) will meet on Wednesday to take a call on the bank's lending and deposit rates, he added. The cut in the CRR will free up R18,000 crore of liquidity for the system as a whole.
The indication that you are getting from all bankers is that there will some transmission on the lending rates. On deposit rates, we are going to watch the situation, so that is probably the best news that small customers can look for, said ICICI Bank MD & CEO Chanda Kochhar.
While the RBIs move to cut repo rate to 7.75% will help rein in the costs for bankers, the additional liquidity through the CRR cut will really help reduce interest rates in the future, bankers said.
Oriental Bank of Commerce CMD SL Bansal said interest rate cuts would depend on Alco decisions of individual banks. OBC would have its Alco meeting in the next 2-3 days, he said. In the second half of 2012. lenders like ICICI Bank, Karnataka Bank, IDBI Bank, Federal Bank and Union Bank of India had all announced discounted interest rates or attractive schemes for retail customers.
In October, SBI had reduced processing fees on all home and car loans by 50 bps, for all loans up to December 31. The bank had reduced lending rates on home and auto loans by 60 bps in August. However, bankers said the discussion on transmitting lower rates would not be limited to retail customers.
Today, if we are looking at growth in this country, fresh investments have to happen. When we said transmission has to happen, it also includes other segments like infra or small and medium enterprises, said PNB CMD KR Kamath.