Bonds rallied on Tuesday, driving down the yield on the 10-year benchmark G-Secs by five basis points to 8.76%, the most this year, after the Reserve Bank of India (RBI) signalled a pause in the rate tightening cycle even as it raised the key policy rate by 25 basis points to 8.50%.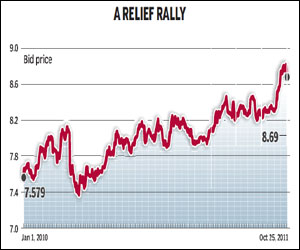 Parthasarathi Mukherjee, head treasurer, Axis Bank, said: The rate hike was priced in, but the bond markets have reacted because the RBI has signalled a pause, going forward. However, the rally could be shortlived, given the excess borrowings by the government, and the yields could move up again.
While there has been a relief rally, the bond market has other problems, namely, the excess borrowings of the government, said Jayesh Mehta, head, treasury, Bank of America. Mehta added that while interest rates did matter, right now, the supply of paper was a more important consideration. He said that though the yield on the benchmark had moved down after the policy announcement, it could move back to 8.8% after the next couple of auctions.
Indeed, treasurers do not see the yields coming off too much from current levels due to the high quantum of government borrowings. Mohan Shenoi, group treasurer, Kotak Mahindra Bank, said the 10-year yields would stay between 8.65% and 8.80%. I see little chance of the yield on the 10-year paper going below the current levels due to the supply of paper, Shenoi said. He expected Fridays auction to go through successfully due to the positive sentiment created after Tuesdays policy, but said it would be difficult to predict the outcome of subsequent auctions.
Despite Tuesdays rally, the yield on the benchmark treasury paper are still up over 40 basis points from September 28, 2011, level, a day before the government announced R52,900 crore of additional borrowing for the second half of 2011-12.
Should the government succeed in mopping up this amount, it would take the total net borrowings for the current year to R3.96 lakh crore from R3.43 lakh crore targetted earlier. The government has said that it would borrow R15,000 crore less through treasury bills. The central bank will borrow an average of R13,000 crore every week to meet the targetted borrowings. So far, the government has conducted two auctions; both have failed to attract enough buyers.