Falling demand, rising interest rates and an exports slowdown have combined to squeeze many Indian companies, triggering a spike in corporate debt restructuring (CDR) activity.
In the first five months of the financial year, 28 companies were admitted to CDR 16 in the first quarter and 12 in the next two months. Bankers expect the trend to rise, the impact of serial rate hikes and a slowdown in both domestic and export markets. In 2009-10 and 2010-11, the number of companies referred to CDR rose 35% from 225 to 305.
Though not alarming, we are witnessing deepening stress in many segments of the economy, said B Ravindranath, chairman of the CDR cell which prepares restructuring packages for struggling companies. The CDR cell is constituted by the Reserve Bank of India.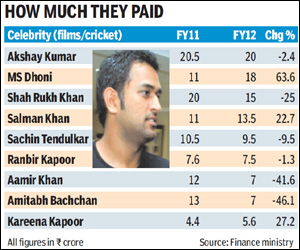 Companies which owe R10 crore or more in debt approach the CDR cell when they are unable to repay loans from cash flows and hence lenders pool to restructure their loans. The recast aims to save the company from being dragged to the Board for Industrial and Financial Reconstruction, debt recovery tribunals and other legal proceedings. Lenders rework these loans before they turn non-performing assets or NPAs.
Until August, the CDR cell prepared restructuring plans for 138 companies involving R78,312 crore. Recast plans for 31 companies for an amount of R23,720 crore are currently under process, said Ravindranath.
The maximum number of CDR seekers are from iron & steel, textiles, sugar, cements, fertilisers, telecom, power, electronics, metals, pharmaceuticals and infrastructure segments, said Ravindranath.
Until August, lenders admitted 333 companies for debt recast, but the loan amount restructured had declined, show data from the CDR cell.
Some companies seeking debt recast blame banks for wrong advice.
Some of our bankers had advised us to book derivatives, said R Sundaram, president, (finance) at Indo Count Industries, which is under CDR. We had taken forward dollar exposure and hence, we had to incur heavy losses due to which we went to the cell in 2008.
Indo Count's lenders include Union Bank of India, ICICI Bank, IDBI Bank and Bank of India. The CDR package has to be approved by 75% of the lenders.
However, bankers say that apart from the changing economic environment, heavy debt and bad management decisions have driven these companies to CDR.
Last month, mobile tower operator GTL Infrastructure was admitted to CDR to restructure Rs 15,000-crore debt. Analysts say the company overpaid to purchase Aircel's 17,000 towers. GTL Infra had paid $1 billion to purchase these towers.
The company has debt to be repaid and it didn't have cash, a telecom analyst at domestic brokerage said. So, first they tried to sell that vertical. But there were no buyers. Ultimately, they had to resort to the restructuring., he added.
A GTL Infra spokesman said the loans are being restructured by the CDR cell. We went to the cell a month back. According to him, rising interest rates and the slowdown in telecom sector forced the company to seek debt restructuring. Loans taken on promoter's guarantee had become a sort of debt trap, he added.
Among companies that chose CDR in the first quarter were Euro Ceramics (Rs 452 crore), Ruchi Power & Steel Industries (Rs 601 crore), KLG Systel (Rs 332 crore), Eastern Silk Industries (448 crore) Maithan Ispat (Rs 435 crore), New Tirupur Area Development Corp (Rs 779 crore) and Maneesh Pharmaceuticals (Rs 1,179 crore).
Till now, loans of 25 iron & steel companies worth Rs 36,673 crore are being restructured, while 47 textile companies had accessed CDR platform for restructuring Rs 8,902 crore.
There are seven telecom companies which want to avail of CDR for Rs 5,250 crore, seven power companies (Rs 3,836 crore) and nine infrastructure companies (Rs 5,166 crore). Besides, there were companies from automobiles, engineering, cables, refineries, ceramic-tiles companies segments which have joined the CDR bandwagon in recent times.