With the monsoon picking up in the last two weeks in key paddy-growing regions of eastern, central and northern India, sowing activities have gathered momentum and experts believe there wont be any significant reduction in paddy acreage this year due to lack of rainfall.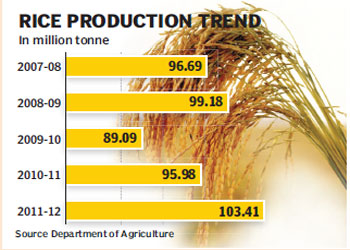 Agriculture scientists say that the area under rice cultivation is expected to increase this week because of adequate monsoon rains particularly in Andhra Pradesh, Orissa, Chhatisgarh, Jharkhand and eastern Uttar Pradesh.
The monsoon rains have intensified during last two weeks after a slow start in June and transplanting has started in most of the key growing areas, Trilochan Mohapatra, director, Central Rice Research Institute (CRRI), a Cuttack-based premier institute under the Indian Council for Agricultural Research, told FE.
He said the current spell of rains in the paddy-growing areas of Chhattisgarh, Andhra Pradesh and Orissa are likely to boost rice output. Paddy sowing had been delayed by a week or so in these regions because of delay in the arrival of the monsoon.
According to an agriculture ministry statement last week, rice had been sown in 5.5 million hectare (mh) against the 7.5 mh reported in the corresponding period last year. The total area under rice cultivation is expected to be around 39 mh.
Agriculture minister Sharad Pawar on Wednesday said that there is no concern about paddy, cotton, sugarcane and oilseeds as planting of all these crops have picked up.
We do not anticipate significant fall in paddy acreage this year, an agriculture ministry official said.
The traditional rice-growing states include Assam, Bihar, Jharkhand, Orissa, West Bengal, Chattisgarh and the eastern parts of Uttar Pradesh, which account for 61% of the total rice area and 51% of total rice production in the country. A major portion of rice-growing areas are rainfed.
With the India Meteorological Department on Thursday predicting heavy rainfall in several areas of Arunachal Pradesh, Assam, Meghalaya, Sub-Himalayan West Bengal, Sikkim, Bihar and east Uttar Pradesh during next 48 hours, rain-based agricultural activities are expected to intensify in the coming weeks.
The average rainfall across the country till now have been 202 milimetres against a normal rainfall of 262 mm, which is a deficiency of 22%.
The southwestern monsoon this year had been patchy since beginning while picking up pace during last two weeks.
Rice production during 2011-12 was at 103.41 million tonne (mt), out of which 90.75 mt were grown in the Kharif season. Due to the failure of monsoon during 2009-10, paddy production had declined by around 14% to 89.09 mt. India is the second-biggest producer of rice in the world and produces 20% of the total global output.