Hit hard by the Centres decision to deregulate bulk diesel prices that has set its annual fuel bill soaring by 15%, the Indian Railways has turned its attention on the neglected track electrification programme, increasing the target by around 50% for the next fiscal.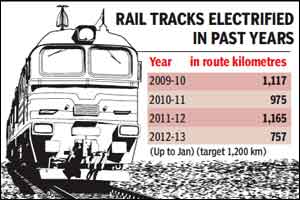 The national transporter would be doubling its spend on electrification to R2,000 crore next year.
This would be the railways biggest electrification drive as the target is expected to be around 1,800 route kilometre.
For 2012-13, the electrification target was 1,200 route kilometre, of which only 757 km has been achieved till January.
Sources said rail minister Pawan Bansal could announce his thrust on electrification as part of his debut Budget speech on Tuesday.
A major portion of the increased spending for the electrification projects is expected to be done through the Indian Railway Finance Corporation (IRFC), which till date has stayed away from financing railway projects, due to cost and time overruns.
Bansal is expected to announce three projects to electrify the routes connecting Delhi with Ahmedabad and Jaipur. The three projects covering 1087-km of rail track will cost R1,121 crore.
To get the funds for the electrification projects, the cash-strapped railways, which is planning to raise Rs.18,000 crore of its annual plan outlay for the next financial year through market borrowings, is expected to ask IRFC to finance the project.
IRFC could be asked to finance electrification projects of railways. Such projects have good traction and returns on investments are faster, railway board chairman Vinay Mittal told FE earlier.
At present, 31% of the 64,000-kilometre railways network is electrified.
Putting electrification target on fast track remains imminent for the railways as in 2012-13, the overall bulk diesel cost went up by over R15 a litre, an increase of over 33%, said a senior rail board official.
At present, the total fuel bill of railways is around R20,000 crore (R12,500 crore for diesel and R7,500 crore for electricity). Thanks to the increase in diesel prices, the fuel bill will increase by at least 15%.
All new rail track projects are expected to be electrified. The ambitious 3,300-km dedicated freight corridor project being constructed at the cost of Rs.90,000 crore is also going to be 100% electrified.