Continuing with its dismal financial performance, the railways is likely to miss its revised revenue targets set for the current fiscal that were announced in the rail budget. This would be a big embarrassment for the national carrier that only last month revised all its key budgetary numbers downwards.
In the revised estimates announced in the rail budget, the railways fixed its gross traffic receipts at R1,25,680 crore, short by R6,872 crore over budget estimates. But top officials at the Railway Board are apprehensive that the railways might not be able to meet even that target and could fall short by around R2,500 crore.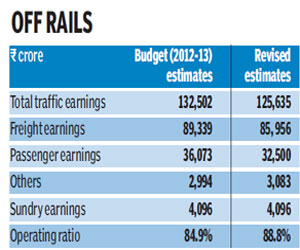 The earnings in the last two months have been good when we compare it to the rest of the year but to reach the total traffic revenue target for the current fiscal we need to earn R14,000 crore in March, which seems unlikely. Well fall short by a good R2,500-2,000 crore, said a senior Railway Board official, requesting anonymity. The actual shortfall could be even higher considering that the economy is expected to grow by a mere 5% in 2012-13 and the fall would be sharpest in the last quarter.
Sources said that railways budgetary calculations has gone wrong as earnings have been affected in both the passenger and freight segments. The railways expected a big improvement in its fortunes through its passenger fare revision of January, almost a month ahead of the budget presentation. The fares that time went up by up to 20% across the board.
In its revised estimates, the railways estimated a surplus of R10,409 crore in 2012-13, against the budget amount of R15,557 crore, and an operating ratio of 88.8%. However, the railways now expects to end the current year with an actual surplus of just around R8,000 crore and an operating ratio of about 90%.
The railways had set a total traffic revenue target of R1.32 lakh crore in its budget for 2012-13, but due to a decrease in freight traffic and rollback in passenger fares, it had to prune revenue targets.
The freight target, which was set at 1,025 million tonnes, was pruned to 1,007 million tonnes, and the revenue target cut from Rs 89,339 crore to Rs 85,956 crore. The revenue from passenger earnings was also slashed, from Rs 36,000 crore to Rs 32,500 crore.
Total freight loading in 11 months has been 911 million tonnes. By the end of March it will be around 1,000 million tonnes. Freight leads are also coming down, which is a concern for us. Passenger earnings till February have been Rs 28,000 crore, which will go up to Rs 31,000 crore by the end of this fiscal, the rail official added.
Meanwhile, for the next financial year, railways has stayed away from being too ambitious and has estimated total traffic receipts of Rs 1.43 lakh crore and an operating ratio of 87.8%.